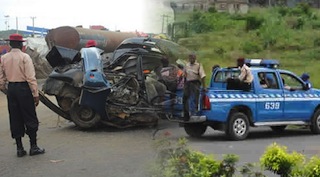 Sixteen people were killed and 35 injured when a passenger bus collided with a truck on a road in northern Nigeria's Yobe State, a senior road safety official said Monday.
"Sixteen people died in the accident and 35 others were injured," Abdullahi Galambi, deputy head of the Federal Road Safety Commission in the state told AFP.
He said the accident occurred near the village of Dogon Kuka when the bus returning from the city of Maiduguri collided with an oncoming truck.
The driver of the bus "lost control and veered off the road after one of the tyres burst," he said.
The truck had been transporting aid for people displaced by Boko Haram violence in Maiduguri, he added.
Deadly accidents are common on Nigeria's poorly-maintained roads, often caused by speeding, overloading or reckless driving.

Load more