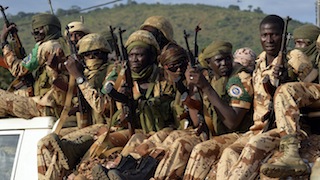 Chad sent ground troops into Nigeria for the first time on Tuesday to fight Boko Haram as the Islamist militants escalate their bloody insurgency.
For almost an hour, Chadian warplanes struck Boko Haram positions, then armoured vehicles rolled across the bridge linking Fotokol town in Cameroon with Gamboru in Nigeria, clearing the way for the infantry.
Up until now, Chad's military had conducted air strikes against the armed extremists, while waiting for authorisation to operate on the ground in Nigeria via Cameroon, which has recently endured Boko Haram raids.
The entire Chadian contingent of about 2,000 troops had crossed the frontier by midday without a shot being fired, an AFP correspondent saw.
Chad's President Idriss Deby Itno sent soldiers to Cameroon in mid-January to help take on Boko Haram, whose raids, massacres and abductions are estimated to have claimed 13,000 lives since the movement emerged in northern Nigeria in 2009.
Nigerian authorities said late Monday that Gamboru had been reclaimed after three days of air strikes by Chadian warplanes against Boko Haram positions in the region.
The Nigerian army, which has been criticised for its inadequacy in failing to crush the insurgency, also annnounced the recapture of Mafa, Mallam Fatori, Abadam and Marte towns.
The military spokesman said that previous operations in the northeast of the country had brought about the liberation of 11 towns in Adamawa state, to the east of Borno state, and of Gujba and Gulani, in Yobe state.
The Islamist fighters, who bitterly oppose Western education and seek to establish a broad caliphate under strict Sharia law, still control six regions in Adamawa state.
Boko Haram took control of several towns on the northeastern border in a major offensive launched early this year and stepped up attacks against neighbouring countries, mainly Cameroon.
Chadian soldiers have also been deployed at Daboa in the Lake Chad area where the borders of Nigeria, Chad and Niger converge.
A multinational force intended to strike jointly at the radical sect has withdrawn from its base at Baga on the southern shore of Lake Chad because of disagreements between the Nigerian government and its neighbours.
In the meantime, Boko Haram stands accused of many atrocities constituting crimes against humanity in the eyes of the international community.