Imo State Governor, Rochas Okorocha, has advised Igbos living in the North against leaving the places they currently reside ahead of the general elections.
Okorocha made the call while speaking to journalists in Abuja, Nigeria's capital, after a meeting of leaders of the All Progressives Congress, APC.
He said that the fear is unfounded and they should disregard the rumours and the pronouncements of people like Asari Dokubo and other militants who advocate violence, reports Daily Trust.
He called on them to stay in their places of abode during the elections, saying that such movement will only be necessary if they were going home to cast their votes in the elections.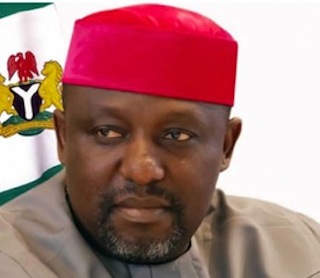 Okorocha decried the call by the leader of the Niger Delta Peoples Volunteer Force, NDPVF, while assuring that the elections would be peaceful, free and fair.
He dismissed the idea of Buhari Islamising the country being propagated by the ruling Peoples Democratic Party(PDP) and accused the party of dividing Nigerians along ethnic and religious lines.
"It is uncalled for. There is no need for it. This election as far as we are concerned will be peaceful. Nigeria and Nigerians are only passing through a trial period in their political history. That does not mean it will bring about crisis. I don't think so. Unless for Igbos who have registered at home. They should come home to vote. But those who registered in the North should stay there," the governor said.
He said what is before Nigerians now is more than the sentiments of tribe and religion but what they will do to fix and improve the country.