President Goodluck Jonathan and other prominent Nigerians have expressed their grief at the passing of billionaire Lagos-based business mogul, Chief Molade Okoya-Thomas. He died at the age of 79 on Monday.
President Jonathan in a statement extended his sincere condolences to members of Chief Okoya-Thomas' family as well as his friends, associates, business partners within and outside Nigeria, and the people of Lagos where he held the traditional title of Asoju-Oba.
The President said he shares their pain and sorrow as they mourn the late Chief Okoya-Thomas who was also honoured in his lifetime with the traditional titles of Odofin of Ile- Ife and Bobasuwa of Ijebu-Remo.
He urged members of the Okoya-Thomas family and all others who mourn the very successful businessman to be comforted by the knowledge that he lived a very worthy and fulfilled life, and left a legacy of great entrepreneurial achievements for his successors to build on.
The President said he believes that Chief Okoya-Thomas will also be long remembered and honoured as a very generous philanthropist and sports enthusiast who established the popular Asoju-Oba Table Tennis Championships.
He prayed that God Almighty will grant Chief Okoya-Thomas' soul peaceful and eternal rest.
Lagos State Governor, Mr. Babatunde Fashola, also expressed shock and grief at the passing of the Asoju Oba of Lagos, Chief Molade Okoya-Thomas, describing him as an epitome of humaneness and dedication to service.
In a letter to widow of the late elder statesman, Chief (Mrs.) Olivia Abosede Okoya-Thomas, the Governor, who said the passing of Chief Okoya-Thomas was a tremendous loss to him personally and to Lagos State, pointed out that both he and the people of Lagos had been the beneficiaries of the deceased's great wisdom and philanthropy over the years.
In the letter dated February 2, 2015, Governor Fashola told Chief (Mrs.) Okoya-Thomas, "It was with great sorrow that my family and I heard of the passing of your husband, Chief Molade Okoya-Thomas, the Asoju Oba of Lagos and a great statesman. In the years I knew him, his moral and physical strength, and his dedication to service were an inspiration to me."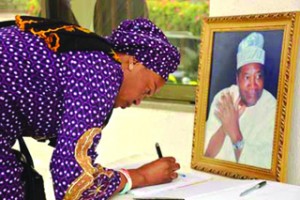 The Governor said Lagos State was indeed lucky to be the home of the late Chief Okoya-Thomas because the state felt his impact in various sectors, "especially in education, where he was, until his death, Chancellor of Lagos State University, and sport, for which he was a great patron".
Saying that he would miss not only the elder statesman's wise counsel, but also his person and all he stood for, Governor Fashola declared: "I have very fond personal memories of Chief Okoya-Thomas. He was always blunt when dishing out his sage advice but I knew it was because he genuinely cared about the welfare and progress of the state and its people."
The Governor, who prayed that God would grant the Okoya-Thomas family the fortitude to bear the great loss, added, "History will remember Chief Molade Okoya-Thomas as a great philanthropist. His legacy will live on because he made his mark in the private and public sectors and in the lives of numerous individuals."
He told the widow of the deceased, "On behalf of my family and the people of Lagos State, I wish to convey my deepest condolences and sympathies to you and your family during this time of mourning. My prayers are with your family in this trying time. Mama, I pray that God will grant you the fortitude to bear this heavy loss. May his soul rest in eternal peace."
Former Vice President Atiku Abubakar on Monday reacted to the demise of the foremost industrialist,  saying the death is a huge blow to the community of Nigeria's businessmen.
Atiku, in a press statement by his media office in Abuja noted that the late Okoya-Thomas was a visionary and astute businessman whose contribution to Nigeria's private sector economy will remain indelible.
"Although the late Molade Okoya-Thomas left the stage at a prime age of 79, his death nonetheless is a huge blow to the community of businessmen in Nigeria.
"He was a pioneer and a visionary. Okoya-Thomas belonged to a generation of private sector investors who saw opportunities in making investments in the economy when it was risky to do so.
"His legacies will remain indelible in corporate Nigeria and I pray God will grant his family and loved ones the fortitude to bear the loss."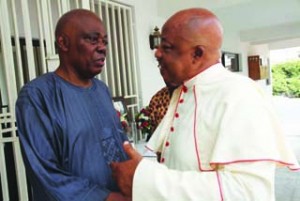 Also, Senator Gbenga Ashafa representing Lagos East Senatorial District, expressed a great shock at the sudden demise of  Chief Molade Alexandria Okoya-Thomas.
In his condolence message, the lawmaker described the billionaire business mogul as "a rare gem that left us when we needed him most.
"Chief Okoya was a benevolent, notable businessman, sports lover and a philanthropist  of great repute. I remember too well that he was the Chairman of the occasion during my first born's wedding ceremony. He would surely be missed by all of us .
"I pray that Chief Okoya would continue to live in the bosom of Almighty God and wish that God would grant the family the fortitude to bear the irreparable loss . Amen," he said.
Until his death, Chief Molade Alexandria Okoya-Thomas.was chairman of many organisations including CICA (Nigeria) Ltd., Transcap Nigeria Ltd., Oktom Investment Ltd., Itochu Nigeria Ltd., Chiyoda Nigeria Ltd. and Anchoria Investment & Securities Ltd. He also served as Director of NFI Insurance Company Plc and GatewayBank Plc.
He also contributed to the development of Lagos State by serving in numerous committees including; member, Lagos City Council from 1971 to 1975, member Lagos State Development and Property Corporation, Chairman Board of Trustees Glover Memorial Hall and Tom Jones Hall.
Molade Okoya-Thomas was an active sportsman in his youth, he was a Joint All Nigeria Record Holder of 4 X 220 yards relay race while at Baptist Academy Lagos.
He was  the sole sponsor of the annual Asoju Oba Table Tennis Championships for over four decades, setting a record as the only Nigerian to have single-handedly and consistently sponsored a competition spanning over four decades.
Okoya-Thomas MFR was born in Lagos on 8 June 1935 to the late Hussam Okoya-Thomas (the first Baba Adinni of Furabay Mosque, Olowogbowo, Lagos and the first local staff of CFAO, who served the company for 52 years) and the late Alhaja Suwebat Okoya-Thomas (née Gbajabiamila, Otun Iya Adinni of Idita Mosque).
He studied at Princess School, Lagos, 1946; Balham and Tooting College of Commerce, London, 1956–1959; Columbia University, New York, US, 1981. He was appointed Director, Transcap Nigeria Limited; Director, Niger Motors Industries Limited; Chairman, Studio Press Nigeria Limited and was the Chairman of CFAO Nigeria Limited since 1987.
Load more