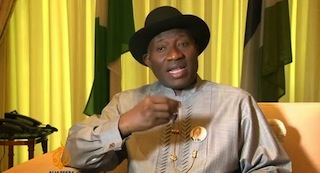 President Goodluck Jonathan on Monday in Abuja received the Forensic Audit report on the Nigerian National Petroleum Corporation (NNPC) from the international auditing firm, Water House.
He said that the report would help to address the lapses in the oil industry and help the administration to address the misconceptions in the industry.
"The figures being branded in the newspapers are ones that Nigerians will be interested in.
"Indeed, you mentioned the issue of the reforms in the sector.
"Everybody knows that the sector needs to be reformed and I believe that by the time we go through the petroleum industry bill and make it a law, most of these lapses would be corrected and the misconceptions will be properly addressed by the different administrative structures.
"I thank you for what you have done. It will help us, it will help this country to set things right. We will handle it decisively based on the information that we have.
"Based on the preliminary information, Nigerians need not be so scared about the kind of stories that we hear."
The president, however, directed the Auditor-General of the Federation, Mr Samuel Ukura, to look into the report and release major findings to the government within the week.
He also told him to liaise with the firm to clear any grey areas in the report.
President Jonathan thanked the audit firm for turning in the report on time and for clarifying the issues in the petroleum ministry.
He observed that both chambers of the National Assembly had delved into the matter in the past; and that with the report, the issue of leakages in the petroleum industry would be laid to rest.
The president said that the kind of figures mentioned in the newspapers" looked so ridiculous", noting that they were figures that he could not imagine the country earned.
"I am quite pleased that you have taken a forensic audit. I will give it to the professionals, the auditor-general of the federation, so that within the week we will get the key findings," the president said.
He described the report as "a precious document" which could be used as future reference material to improve operations in the oil industry and for academic purposes.
Mr Uyi Akpata, the Senior Partner of the consultants, while submitting the report, said the group was privileged to be nominated for the auditing assignment.
He said the firm expected the government would find the report useful in the reforms in the petroleum sector.
The report was carried out by the Water House, following reports of the controversy of leakages in the petroleum ministry.

Load more