*It's pay back time over Ebola hysteria

A Nigerian writer has used the current measles outbreak in the U.S. to poke fun at American's overreaction to the Ebola virus during which some politicians called for a travel ban on impacted west African countries.

Elnathan John, a writer and lawyer living in Nigeria's capital Abuja, jokingly called for screenings to prevent the highly contagious measles virus from spreading abroad.
'Our thoughts are also with the measles-ravaged country America. I hope we are screening them before they come to Africa,' he tweeted on Sunday.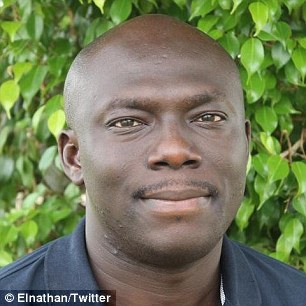 Concerns about people from African countries bringing Ebola into the U.S. reached fever pitch last October after Liberian Thomas Eric Duncan died in a Texas hospital.
Politicians, including Republican Texas Gov. Rick Perry, quickly called for an air travel ban from countries hit hardest by the virus which is actually much harder to catch than measles.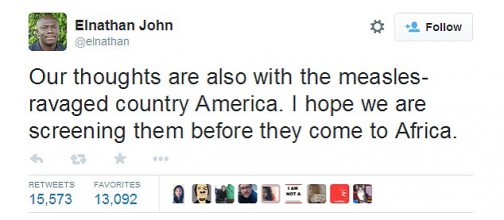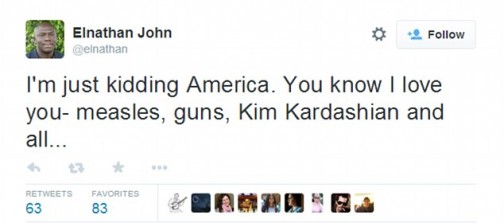 A Reuters/Ipsos poll last October also found that more than 70 percent of Americans supported such a ban on civilian air travel, although experts questioned how useful such a measure would be in containing the disease.

John's comment has been retweeted more than 15,000 times, with some people applauding him for his snark and others taking offense, reports Raw Story. He later confirmed via another tweet that he had been joking.
'I'm just kidding America. You know I love you – measles, guns, Kim Kardashian and all,' he tweeted.

There remains a growing concern that the U.S. could become gripped by a measles epidemic, according to the head of the Centers for Disease Control and Prevention.

*Reported by Mail Online

Load more