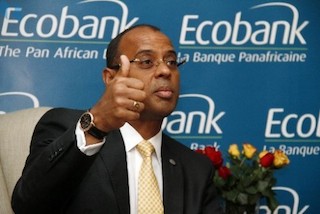 A court in Togo awarded Thierry Tanoh, the former chief executive of pan-African lender Ecobank , $11.6 million on Tuesday after he filed a wrongful dismissal suit following the bank's decision to fire him last March.
The labour court ruling represents a sharp legal setback for Ecobank, one of the biggest financial institutions in sub-Saharan Africa, whose presence in 36 countries has enabled it to take advantage of rapid economic growth on the continent.
The size of the award is dwarfed by Ecobank's assets, which in 2013 totalled $22.5 billion, according to the company website. The bank is listed in Lagos, Accra and on the West African regional bourse.
But the ruling exposes jurisdictional risk for the bank, given that Ecobank Transnational Incorporated (ETI), the parent company, is one of the dominant business forces in the Togolese capital.
The bank said in a statement it would appeal and file a criminal complaint against Tanoh in Lome for allegedly removing papers and deleting computer files while he was CEO. Ecobank also said it would convene a board meeting next week over the issue.
"ETI does not accept the legitimacy of the Togolese court's ruling because the court does not have legal jurisdiction over Mr Tanoh's employment contract," the bank said, adding that it stood by its decision to remove Tanoh.
There was no immediate comment from Tanoh.
Ecobank's board removed Tanoh, a citizen of Ivory Coast, after months of turmoil over corporate governance that rocked the bank and cast a spotlight on how best to regulate African banks that operate across borders.
The promotion of Tanoh's deputy Albert Essien last March to the position of chief executive restored calm to bank management. Qatar National Bank and Nedbank bought stakes last year to become leading shareholders.
A court in Ivory Coast last month ruled that Ecobank and Daniel Matjila, the chief executive of South Africa's Public Investment Corporation, should pay Tanoh $15 million for defamation linked to the row. The two parties are appealing that ruling.
"These unbelievable decisions by the local courts in Cote d'Ivoire and Togo amount to self-inflicting damage, for they send unambiguously negative signals to the business community," Ecobank said.
*Source: Reuters

Load more