Okafor Ofiebor/Port Harcourt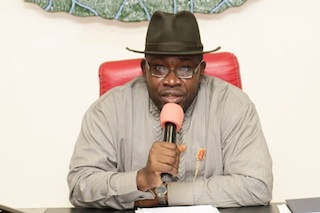 The Bayelsa State Government has raised an alarm that, the Independent National Electoral Commission, INEC is on the verge of disenfranchising over 147, 000 legitimate voters in the state.
In a statement by Hon. Fyneman Wilson, Special Adviser to the Governor on Political Matters he explained that, 147, 802 Permanent Voter Cards, PVCs, meant for the state are yet to be released by the national headquarters of INEC with less than two weeks to the presidential polls.
Describing the situation as a deliberate attempt by the Professor Attahiru Jega led INEC to disenfranchise Bayelsans as well as stagnate the voting strength of the state to the disadvantage of Mr. President, he called on the INEC leadership to without further delay, release all the outstanding 147, 802 PVCs meant for the State.
According to him, failure to do so will lead to the disenfranchisement of about one-third of the eligible voters in the State, stressing that, it was unacceptable.
Hon. Wilson further explained that, the Continuous Voters Registration exercise was conducted in May 2014 and it was followed by the Automatic Finger Print Identification System and the Post Business Rules, which caused a drop in the number of registered voters in the state to 503, 461.
"The Continuous Voter Registration was done in the month of May, 2014 in Bayelsa State. Also, it is on record that after the Automatic Finger Print Identification System (AFIS) and Post Business Rules, the number of registered voters in the State dropped to 503, 461.
"It is sad to note that, out of the 503, 461 registered voters, the commission in Bayelsa State has only received 462, 571 Permanent Voter Cards, leaving a balance of 40, 890 to date, with promises to release them yet to be fulfilled by INEC headquarters," the statement said.
The Special Adviser recalled with dismay that, during the continuous voter registration exercise in May, 2014, a total of 106, 912 voters were registered in the State, but while States like Kano, Lagos, Delta and Kebbi, who had theirs in the 3rd batch in Novemeber, 2014, have all received their PVCs, those in Bayelsa have yet to receive their PVCs.
Hon. Wilson demanded the urgent release of the PVCs as well as a waiver of the deadline for their distribution, citing the difficult terrain of the State and the seeming deliberate delay in the release of the PVCs

Load more