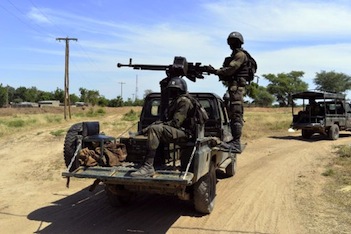 Cameroon soldiers clashed with Boko Haram fighters in the border town of Fotokol on Wednesday as the Islamists fled an offensive by Chad's army, security sources said.
The Islamists "entered this morning," a Cameroonian security source said, after Chadian troops recaptured the Nigerian town of Gamboru just across the border. "Fighting between them and our soldiers is really intense."
In a deserted Gamboru, Chadian forces carried out clean-up operations after entering the town on Tuesday and retaking it from Boko Haram, which seized control months ago.
"When the Chadians entered Gamboru, the Boko Haram members who were in the town and some villages fled to meet up this morning in Fotokol," the security source said.
While a bridge separates Fotokol from Gamboru, it is possible to also cross over from surrounding villages.
Chadian jet fighters had also bombed Gamboru before its troops entered.
The regional military efforts have highlighted the failure of Nigeria's army to stop the six-year Boko Haram insurgency.
Nigeria's military said on Tuesday the country's sovereignty was not compromised despite the presence of Chadian ground troops and claimed to be "driving the present onslaught".
The offensive comes at a crucial moment, with Nigeria's presidential and parliamentary elections set for February 14.