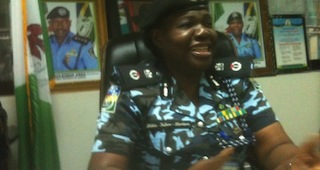 Hilda Ibifuro-Harrison, the Commissioner of Police in charge of the Western Ports Command, says the Nigeria Police Force (NPF) has deployed anti-bomb officers to all terminals to ensure safety.
Ibifuro-Harrison made the disclosure in an interview with the News Agency of Nigeria (NAN) in Lagos on Tuesday.
She said that all terminals at the Western Ports Command were secured, adding that the police had been collaborating with all security agencies at the ports.
"I can assure you that all terminals at the Western Ports Police Command are secured.
"The police are working with all of the security agencies at the ports.
"The NPA (Nigerian Ports Authority) security; the customs has its own arm of security; the terminals themselves have their own in-house security and we are working with all stakeholders.
"To ensure that the Western Police Command is very secured and all terminals are secured for commercial and business activities to thrive, the anti-bomb men are all over the place; they've been posted to all the terminals; they are at the gates.
"They have metal detectors and other equipment, with which they've been working to ensure that we do not have any untoward event around the ports."
She said that the service would train and retrain officers to refresh their memory and enhance the performance of their duties.
Ibifuro-Harrison said that 600 officers of the command would undergo training.
"Learning is the only thing that keeps man alive. Police officers need to be very cerebral.
"They've been trained as police officers; passed out of the various Police colleges and have been on the job for some time.
"Of course, you need to refresh their memory. You need to train and retrain them always.
"That's just what we want them to do; to get acquainted with new roles; how their attitude can be everything to them and enhance their efficiency and effectiveness in the performance of police duties.
"We hope to train all our men. A total strength of more than 600 but we are going to take it in strait.
"Crime is crime, whether sea piracy, sea robbery, illegal bunkering.
"We are poised to deal with criminals and miscreants and it's all about getting intelligence from all of you.
"Journalists and all the good-meaning Nigerians for us to work on, so that they don't even have the opportunity to commit the crimes but where the crimes are committed, we move after them; arrest and diligently prosecute them."
She said that the command was working hard to reduce pilfering to the barest minimum.
Ibifuro-Harrison said there was cordial relationship between the port police and the terminal operators.
She urged commercial motorcyclists to stop loitering within the ports' vicinity, warning that the law would be invoked against any offender.

Load more