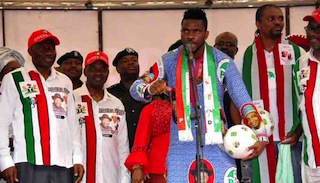 Nigerian football star, Joseph Yobo on Tuesday urged Nigerians to vote for President Goodluck Jonathan in the Feb. 14 presidential elections to ensure continuity of his laudable programmes in the country.
NAN reports that Yobo made the call at a rally organised by the Lagos Chapter of the PDP ward to ward campaign held at the Freedom Square, Ojota.
NAN reports that the rally, which kicked off with a road show across Lagos, was attended by thousands of supporters of the Jonathan/Namadi Sambo ticket.
Addressing the rally, Yobo said, "I urge you not to be hoodwinked by propaganda. President Jonathan has done so much for this country and would do more if re-elected".
Yobo who is a Brand Ambassador for the PDP ward to ward campaign initiative, also urged the crowd to vote for Mr Jimi Agbaje, the party's governorship candidate in Lagos.
"If there is any place we need change, it is Lagos State," he said.
Also speaking, Mr Ayo Fasheke, the state Coordinator of the initiative, stressed the need for their members to have their Permanent Voter Cards.
"President Jonathan will not be elected if we the supporters fail to vote.
"We must make it a duty to collect our cards to enable us re-elect the President," he said.
Meanwhile, Agbaje, at another rally of the PDP in Ikeja, promised to pay the N18, 000 minimum wage to workers in the state, if elected.
"Be assured that we shall pay you the N18,000 minimum wage.
"I want to assure you that I will defeat the All Progressives Candidate, Akinwumi Ambode come Feb. 28," the PDP candidate said.
According to him, his administration, if elected, will ensure the payment of all allowances and bonuses to all civil servants in the state.

Load more