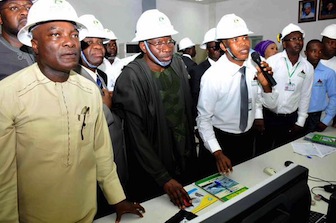 Former military head of state, General Ibrahim Babangida has stated that Nigeria is under "safe hands" under the leadership of President Goodluck Jonathan, adding that, Jonathan is a dependable leader for the country.
Babangida who annulled June 12, 1993 election in Nigeria stated this on Tuesday when Jonathan and his campaign entourage visited him in Minna, Niger state.
The former military leader said Jonathan was a leader who would continue with the dreams of the country's founding fathers.
Babangida said himself and Jonathan shared the same passion for a peaceful, stable and developed Nigeria.
"Whenever I discussed with him, I see a young man who has passion for Nigeria. Under Jonathan, Nigeria is in safe hands.
"All the presidents that this country has produced have come to Minna for blessings and today that you have come, I will offer you blessings," Babangida said.
Jonathan described Babangida as a dependable pillar in ensuring continued peace and stability of the country. "As a deputy governor, you took me as a son and since I came on board as Vice President till date, you have been a pillar and a charismatic leader. You have been a stabilising factor in this country in many ways.
"You are not like some other past leaders. We pray for long life for you so that you can continue to mentor the country and to give rightful direction to us," Jonathan said of the former military leader.
It would be recalled that the annulled June 12 election has been described as the freest and fairest election held in Nigeria till date.

Load more