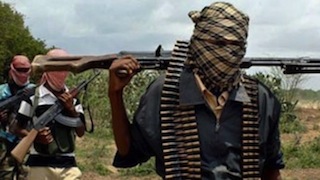 Gunmen riding in a speedboat kidnapped four Nigerian oil workers in the crude-producing Niger Delta, the military said Wednesday, as fears rise of growing unrest in the region 10 days before national polls.
The hostages are employees of the Nigerian Agip Oil Company (NOAC), a subsidiary of the Italian major ENI, said area military spokesman Isa Ado.
There were taken on Tuesday in the Southern Ijaw area of Bayelsa state while they were travelling by boat without a security escort, Ado said.
"We have started a rescue mission to secure their release and also bring the captors to book," he told reporters.
Kidnappings, including attacks targeting foreigners, are common in the region's creeks and swamps, although hostages have typically been released following a ransom payment.
Unrest in the Niger Delta declined dramatically following a 2009 amnesty deal with militants who had caused massive disruptions to crude output in Africa's top producer.
The amnesty pact included huge cash payouts to fighters, with 230 billion naira ($1.2 billion, one billion euros) having been paid to some 30,000 rebels, according to the programme's spokesman Daniel Alabrah.
President Goodluck Jonathan, a Niger Delta native who is facing a tough re-election battle in the February 14 vote, is popular among many in the region.
But some militants have threatened renewed violence if Jonathan is defeated by opposition leader Muhammadu Buhari, who hails from the Muslim-majority north.
While there was no indication that the latest kidnapping was linked to the vote, analysts are watching the region closely for signs of agitation, a focus that will be intensified if Jonathan loses to Buhari.
Neither candidate has clearly indicated his plans for the amnesty programme but Alabrah previously told AFP it may be extended because of persistent militant activity around the delta.

Load more