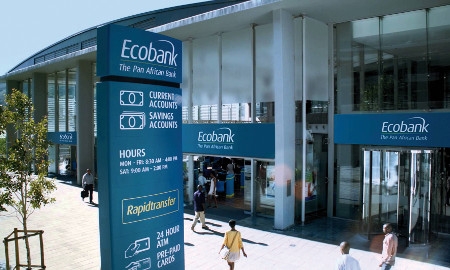 Ecobank Transnational Inc., a lender with operations across much of sub-Saharan Africa that is embroiled in a court battle with its former chief executive, poses a major threat to the continent's financial stability, the International Monetary Fund said.
The warning came a day after the bank, based in Lome, Togo, called an emergency board meeting to discuss court rulings awarding former CEO Thierry Tanoh millions of dollars in damages over his dismissal. South Africa's Nedbank Group Ltd. and Qatar National Bank SAQ, which both hold seats on the board, are among major shareholders that may attend the meeting next week in Ghana's capital Accra.
"Ecobank group is one of the most rapidly expanding pan-African banks and this rushed growth with poor governance poses serious concerns," the IMF said in its pan-African banking report Wednesday. "With the rapid scope of expansion, Ecobank is gaining systemic importance in many cross-border operations and the deficient supervision system is a major source of peril to financial stability."
The IMF said Ecobank's Nigerian subsidiary in particular is plagued by "poor governance, questionable transactions and an unsustainable operation model." That unit represents as much as 45 percent of group operations.
While Ecobank's balance sheet is small compared with those of banks in South Africa or Morocco, the lender's rapid expansion has raised questions about how to regulate African banks that operate across borders. Ecobank, which reported total assets of $23.4 billion at the end of September, has operations in 33 sub-Saharan African countries, having more than doubled the number of subsidiaries in the last decade.
"We've been through a crisis of governance in 2013 through 2014," Richard Uku, a spokesman for Ecobank who hadn't yet read the IMF report, said in a phone interview Wednesday. The bank has "regained the stability and the confidence of its shareholders" since Tanoh left.
Emergency Meeting
When investing in Ecobank, Nedbank recognized "that early stage markets will experience diverse challenges," Mike Brown, CEO of the Johannesburg-based lender, said in an e-mailed response to questions Wednesday. "Nedbank made the decision to invest in Ecobank to provide our clients with access to the largest pan-African banking network on the continent and on the basis of the long-term potential of the rest of Africa."
QNB spokesman Yousef Ali Darwish declined to comment when contacted by phone Wednesday.
Nedbank is Ecobank's biggest shareholder with 20 percent. Qatar National is the second largest, and South Africa's biggest pension fund administrator, the Public Investment Corp., has 13.9 percent, according to data compiled by Bloomberg.
Court Orders
Ecobank ousted Tanoh last year as regulators investigated allegations of management fraud and poor governance. Tanoh denied any wrongdoing and a court in Togo this week ordered Ecobank to pay him 5.7 billion CFA francs ($9.9 million) for unfair breach of his contract. Last month, a Commercial Court in Abidjan, Ivory Coast, ordered Ecobank, Public Investment Corp. and PIC's CEO Dan Matjila to jointly pay Tanoh 7.5 billion CFA francs in compensation for defamation. PIC and Ecobank said they will appeal.
Tanoh was appointed in September as deputy general secretary in the office of Ivorian President Alassane Ouattara. His former deputy, Albert Essien, has succeeded him as CEO of Ecobank.
"So far Ecobank has only experienced a 3 percent loss of deposits in 2013 due to poor governance press, but if the current situation continues or aggravates, it may lead to the withdrawal of large depositors, which would cause liquidity shortages," the IMF said.
PIC is "confident that the Ecobank board will take all necessary steps to protect shareholder value and continue to promote the vision of Ecobank of 'the pan-African Bank,'" the pension fund administrator said Wednesday in an emailed response to questions.
*Source: Bloomberg

Load more