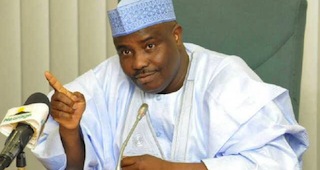 The All Progressives Congress (APC) governorship candidate in Sokoto state, Hon. Aminu Tambuwal said that his administration would provide quality education for the people of the state if elected into office.
He made the promise in Goronyo on Wednesday during the party's electioneering in Goronyo, Goronyo local government area of the state.
According to Tambuwal, "the provision of quality education will be one of the most priority areas my administration will concentrate. In addition to this will be the provision of portable water for those living in rural areas," he said.
He called on the people of the area to ensure that they acquire their Permanent Voter Cards (PVCs) and vote massively for the APC.
"It is only when you get your PVCs that you can vote the APC in order to bring the needed change," adding that "only your votes can bring change."
Governor Aliyu Wamakko appealed to the people in the area to maintain the love they for the party and vote at the February 14th election for the APC.
He said that the party will address Nigerian needs in all areas of human endeavor.
He called on them not to sell their PVCs as it remains the capacity needed to ensure good democratic governance the progressive are aiming for Nigerian.

Load more