Funsho Arogundade
The long awaited video for Dance G, the smash hit collaboration between Hennessy Artistry 2014 headliners 2Face and Wizkid is finally here. The video, which is for the official Hennessy Artistry 2014 theme track, "Dance Go" was shot at the popular Koga Studios in Lagos and was directed by award winning director Kemi Adetiba with Hennessy as executive producers.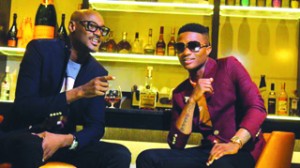 The video, which premieres on Soundcity on Thursday 5 February, boasts of cameos from Dj Caise, Shaydee, EFA among others, showcases an exciting burst of colours and special effects. It also shows 2Face as king whose daughter is under a spell and seeks for her redemption with promises of wealth to whoever breaks the spell.
"Dance Go video is just the perfect blend of the classic and new school… This is the first video featuring just me and the legend, 2Baba…It's an honour," Wizkid said.
Dance Go, which was produced by Sarz, has thrilled music lovers and club goers across Nigeria, Ghana and South Africa throughout the Hennessy Artistry 2014 project and is still receiving massive airplay on radio stations and clubs across the country.

Load more