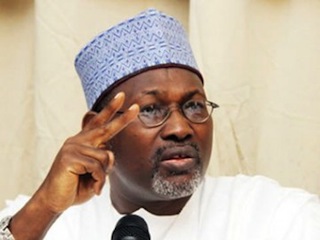 Nigeria's election commission will on Saturday announce whether or not it will postpone national polls set for February 14, a spokesman said.
The chairman of the Independent National Electoral Commission (INEC), Attahiru Jega, met Nigeria's powerful Council of States on Thursday to discuss the country's readiness for the vote.
Concerns have centred on struggles to distribute voter identity cards to 68.8 million registered voters as well as unrest in the northeast, where hundreds of thousands face disenfranchisement because of Boko Haram violence.
Following Thursday's meeting, "the Commission has scheduled a consultative meeting with chairmen and secretaries of all registered political parties, as well as a meeting with (regional election chiefs on Saturday)," INEC spokesman Kayode Idowu said in a statement.
"Thereafter, the Commission will address a press conference to brief the nation on its decision with regard to whether or not the general elections will hold as currently scheduled," he added.
The closed-door council of states meeting — attended by past presidents, state governors, security chiefs and INEC — lasted more than seven hours and included tense discussion over the February 14 date, multiple sources said.
Jega reportedly sought to assure the council that INEC was ready and pushed back aggressively against calls for a postponement.
National Security Advisor Sambo Dasuki has publicly pushed for a delay to allow more time for voter card distribution.
Separately, the dynamics of the Boko Haram conflict have changed rapidly over the last 10 days.
Neighbouring Chad, which boasts one of the strongest armies in the region, has joined the fight, pounding Islamist targets inside Nigeria and sending in ground troops to pursue insurgent fighters.
Nigeria and Chad have claimed huge successes this week, but Boko Haram's defeat is hardly imminent and voting in the hard-hit northeast may be impossible for several months.
More than one million people have been displaced by the conflict and Nigerian law does not allow people to vote outside the district where they are registered.
The opposition All Progressives Congress is opposed to a postponement and has accused the ruling party of pushing for a delay out of fear that it is heading for a defeat.
President Goodluck Jonathan has described the May 29 inauguration of the vote winner as "sacrosanct" but has made no specific comment on the importance of February 14.
PDP spokesmen have said INEC must make the final decision but stressed the importance of distributing as many voter cards as possible.

Load more