Maduabuchi Nmeribeh/Kano
Ahead of Nigeria's 14 February presidential poll, southerners resident in the North are fleeing the region in droves, apprehensive over possible outbreak of violence that may trail announcement of result of the election.
In Kano, economic activities have dwindled in areas heavily populated by southerners. Areas such as Yankaba, Naibawa, Hotoro Quarters and Sabon Gari are mostly affected as most southerners have left the state with their families, hoping to return when the tension associated with the polls reduces.
Luxury bus operators at the popular New Road luxury bus terminal are making brisk business as they have taken advantage of the situation to increase transportation fares from North down South.
A journey that hitherto attracted between N3,500 and N4000 fares now goes for between N6,500 and N8,000, representing almost 100 per cent increase, and travellers are not perturbed about it.
From P.M.NEWS investigations, the panicky relocation is further heightened by unfounded rumours that after 10 February, all routes leading to the South would be blocked.
"I have told my husband that if he is not leaving; I must do everything possible to travel with my children today because from what I am hearing, there will be serious problem. Have you not heard that by next week Tuesday, they will block roads and nobody will travel again?" a woman who identified herself as Nkechi told our correspondent.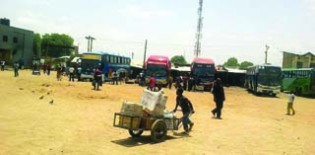 Commenting on the development, Interim President of Ohanaeze Ndigbo in Kano, Chief Chris Chukwubuzor Azuka said the Igbo apex organization has since advised their people not to flee Kano, but to remain in the state and perform their civic responsibility.
Azuka, however, agreed that most people have refused to heed  the advice "because they feel government is not doing enough to guarantee their safety. You remember the experience of 2011 when our people were killed and their properties destroyed. I think what they are doing now is to take precautionary measures.
"Ohanaeze Ndigbo has never advised anybody to leave Kano. We keep on appealing to them to stay behind, because if they registered here and now they are leaving—they are simply disenfranchising themselves. In any case, it will be improper to say that all Igbos or all southerners have left Kano. We are still around because we believe that Kano is part of our country, and the host community here remains part of us because it is made up of our brothers and sisters.
"The challenges we have as community leaders handling this situation are that we are not security personnel or the government who can guarantee the safety of people; but in terms of sensitization, I think we are trying our best to educate our people on the need to remain peaceful, calm, law-abiding and patriotic. And we keep on praying that this election will come and go in peace and Nigeria will emerge stronger as one united country."
Also speaking, Dr. Jimpat Aiyelangbe, President-General, Non-indigenes Community Leaders Association, NICOLA, agreed that there is palpable fear.
"People are moving because they are scared of post-election violence. Even me as an old medical doctor and grandfather, I am scared, too, to some extent," he said but added that as an old man and community leader who has spent over three decades in Kano, "I have seen it all; and then, as a leader of the people, it will be stupid for me to pack my things and leave the North."
He said his advice to his subjects has been, "anybody who wants to go, I do not dissuade that person; I don't persuade them to stay—but I tell them the truth, that I don't anticipate violence at all."
He further stated that it is quite obvious that the experience of the 2011 post-election violence has made people to presume possible outbreak of violence in the 2015 polls, "but we should all remember that we have security personnel and we know that once beaten, twice shy."
Dr. Aiyelangbe further noted that in 2011, no one anticipated that violence would erupt.
"The incident was spontaneous. Now, there is a precedent, and the anticipation of post-election violence will help to galvanize the security agencies to perform and even, out-perform themselves so as to prevent violence this time around."
He Nigerians are fed up with violence.  "We have seen so much violence in our country. We have seen young children blowing up themselves, we have seen bombs exploding everywhere; we are human beings and I think we have reached a point where people are wary of violence and they don't want it," he added.
P.M.NEWS reports that as part of measures to avert post-election violence in Kano, leaders of NICOLA and other community organizations, heads of the Police, Department of State Security Service, DSS, the Army, Customs, NDLEA, Civil Defence, Air Force, Judiciary, Civil Society, Market Women, Christian Association of Nigeria, CAN, Muslim Ulamas, youth organizations, activists, leaders of all political parties, representatives of the state government, the Emirate Council and other traditional institutions are meeting regularly under the chairmanship of Tafidan Kano, Alhaji Mukhtar Bayero.