It has taken Ghana five years to smash their Africa Cup of Nations, AFCON, semi-final jinx, and now they want the icing on the cake.
Black Stars coach Avram Grant has now made his ambitions of winning the 2015 Africa Cup of Nations final clear. His side fought a tempestuous battle to beat Equatorial Guinea 3-0 on Thursday.
"Everyone talked about the other teams. Now we are in the final and we would want to win the cup."
The 33-year wait for a trophy is something the Israeli wants to conquer, but the opponent to wrestle in Sunday's final will be tough. They will face arch rivals, the Elephants Of Ivory Coast.
"It is good to be in the final especially with Ghana. Before the tournament, nobody gave us a chance."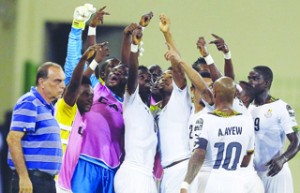 The Black Stars must regroup after the tiring ordeal in Malabo to face the star-studded Elephants in Bata.
Meanwhile, former Nigeria skipper Sunday Oliseh has tipped the Ivorian as favourites to win Sunday's AFCON final, but warned Ghana's chances can also not be dismissed.
It will be a dream final between two highly talented teams who have failed to be champions of Africa for a long time – Ghana last won the tournament 33 years ago and Ivory Coast have not landed the trophy since 1992.
Oliseh, who won the Nations Cup in 1994 and was only denied a repeat by Cameroon in the 2000 final, said the Elephants will go into Sunday's final in the port city of Bata as top dogs but must also be wary of an impressive Black Stars especially in a championship game. "Ivory Coast are clear favourite to win the final and if I didn't know better I would tip them to be crowned champions come final day,' Oliseh said.
Finals are the most difficult to predict in soccer," said Oliseh in an analysis he published on his personal website.
"Player for player Cote d'Ivoire have better individual players as Ghana and they are playing better as a team now especially when they are not in possession.
"A better regrouping defensively and a constant change of pace with bursts of speed forwards from the midfield that is so well complimented by Wilfried Bony's strength and versatility in front is quite remarkable and worth taking into consideration by Ghana."