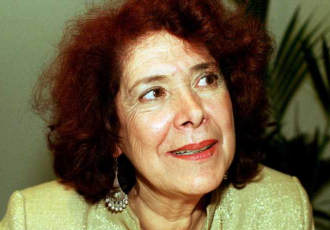 Novelist Assia Djebar, an ardent defender of women's rights in her native Algeria, has died aged 78, state radio said Saturday.
The French-language author and filmmaker, who was seen as a contender for the Nobel literature prize in recent years, died on Friday in a hospital in Paris.
She will be buried in her native home of Cherchell, a Berber coastal town west of Algiers, the radio said.
Djebar, whose real name was Fatima Zohra Imalyene, was elected in 2005 to the Academie Francaise, France's top literary institution.
She wrote more than 15 novels in French as well as poetry and short stories, receiving widespread acclaim for her treatment of Muslim women and their struggle for emancipation.
Her books have been translated into 23 languages, including English, and she divided her time between Paris and the United States where she taught graduate studies at New York University.
She moved to France to study at the age of 18 and became the first Algerian woman to be admitted to the country's top literary university, the Ecole Normale Superieure.
Djebar rose to fame after publishing her first book in 1957.
The novel, "La Soif" — literally "the thirst" but translated into English as "The Mischief" — was compared favourably to its best-selling contemporary, Francoise Sagan's "Bonjour Tristesse".
It was published under her real name before she adopted Assia Djebar as her pen name.
La Soif's protagonist Nadia is a westernised French-Algerian girl who lives a carefree life, and tries to seduce her friend's husband in order to make her own boyfriend jealous.
The book was condemned in Algeria for ignoring the politics of the day.
In 1977, Djebar directed her first film, "La Nouba des femmes du mont Chenoua", (The Song of the Women of Mount Chenoua) about a female engineer who returns to Algeria after many years in Western exile.
She won the International Critics' Prize at the Venice Biennale in 1979 for that work.
Her documentary film chronicling life in North Africa during the first half of the 20th century, "La Zerda ou les chants de l'oubli", (Zerda or the Forgotten Songs) won the special prize for the best historical film of the Berlinale in 1982.

Load more