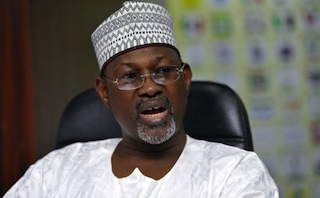 Campaigning in Nigeria's knife-edge presidential election entered its final week on Saturday, with mounting questions about whether the vote will even go ahead and persistent security fears.
President Goodluck Jonathan, battered by criticisms over his handling of the Boko Haram crisis, corruption and the economy, is seeking a second four-year term of office.
But seven days out, the result appears too close to call, even if Muhammadu Buhari, the main opposition candidate and former military ruler, has predicted he will secure a "landslide victory".
"Short of a slim victory for the ruling PDP (Peoples Democratic Party), the outcome of the February 14 presidential elections could be inconclusive leading to a requirement to conduct run-off elections for the first time ever in 15 unbroken years of PDP rule," said analyst Dawn Dimowo, from the africapractice consulting company.
That, though, is assuming the vote still goes ahead as planned, with increasing fears about the distribution of permanent voter cards to some 69 million registered electors.
Nigeria's national security advisor last month called for a delay to ensure that all cards were delivered but the country's electoral commission has repeatedly ruled out a date change.
On Thursday, Jonathan, Buhari and other former heads of state met in Abuja and discussed the possibility of a delay. But again, the Independent National Electoral Commission (INEC) stood firm.
INEC chairman Attahiru Jega's bold stance in the face of mounting pressure could yet change and the body has already extended Sunday's deadline for voters to collect their cards.
Further issues could force INEC into creating "some ad hoc system that will allow voting other than by PVC or create a delay that could lead to enhanced stability", suggested Dimowo.
– Too close to call? –
The organisation of voting in Africa's most populous country has been exacerbated by fears of a repeat of poll-related violence and also the ongoing Boko Haram insurgency in the northeast.
In 2011, some 1,000 people were killed in rioting while this year the Islamists' control of territory in three northeast states has made voting impossible for hundreds of thousands of people.
Since the turn of the year, the militant group has increased the intensity of its campaign, in part to further undermine the democratic process, which it views as un-Islamic.
"Boko Haram has an enormous interest in disturbing the effective conduct of elections," said Malte Liewerscheidt, senior Africa analyst at Verisk Maplecroft political risk consultants.
"A significant disruption of the vote would plunge the Nigerian state into a severe constitutional crisis."
Buhari's All Progressives Congress (APC) party has already said the overall result will be in doubt if displaced people in its northeastern stronghold are disenfranchised.
A legal challenge looks likely in the event of a narrow PDP victory, while a loss for the ruling party could also see court action, particularly if the voter card issues is not resolved.
Any run-off would have to be held by February 21 and create a further headache for poll organisers and potentially increase tensions between rival political supporters.
– Gloomy prospect –
The election, being held simultaneously with polling for a new national assembly, involves 14 presidential hopefuls, although Jonathan and Buhari are the only realistic contenders.
The PDP, which has been in power since Nigeria returned to civilian rule in 1999, has mounted a series of personal attacks on Buhari's health, religious views and even his eligibility to stand.
He and his party have dismissed the smears as a diversionary tactic intended to deflect attention away from scrutiny of the government's record in power.
The PDP meanwhile has played up its purported achievements in office, from overseeing Nigeria's emergence as Africa's leading economy to attempts to decrease reliance on oil revenue.
For the first time, voting intentions could be informed more by politics and governance than traditional religious affiliations from the mostly Christian south and predominantly Muslim north.
Jibrin Ibrahim, from the Centre for Democracy and Development in Abuja, said the vote was "really about the failures of Jonathan".
"There are voters in the south who don't particularly like Buhari but they have been extremely disappointed with the last four years and that could shift support to Buhari," he said.
The winner will have to tackle the increasing regional security threat from Boko Haram and fears of renewed violence from Niger Delta oil rebels but also an economy battered by global oil shocks.
"It's not going to be fun at all for the incoming administration," said Sola Oni, an analyst with the Lagos based Sofinux investment.

Load more