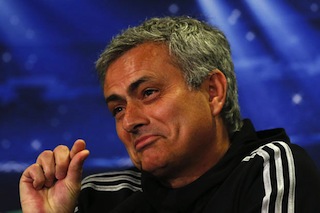 Chelsea manager Jose Mourinho has launched a thinly veiled barb at title rivals Manchester City by claiming that clubs who contravene Financial Fair Play (FFP) rules should be docked points.
European governing body UEFA have fined City and imposed restrictions on their squad for the Champions League due to the reigning English champions' failure to spend within their means in recent seasons.
While Chelsea spent lavishly during Mourinho's first stint at the club, they are now operating more prudently in the transfer market and have made a profit in the last three successive transfer windows.
"I enjoy the challenge of the English competition," Mourinho said in comments published by British newspapers on Saturday. "It's a good challenge. The only thing that is not nice is that you compete against the ones who don't follow the same rules.
"That's the only problem. I don't think — and it's happened before — a team can be champions when you are punished because you didn't comply with Financial Fair Play."
City were fined £49 million ($74.7 million, 66 million euros) last May for breaching FFP regulations, but made the biggest splash in the January transfer window by signing Wilfried Bony for a fee that could rise to £28 million.
Asked what sort of penalty he would like to see, Mourinho replied: "Points. Of course. How many? I don't know."
Chelsea went into the weekend five points clear of City at the top of the Premier League table following a 1-1 draw between the teams at Stamford Bridge last week.

Load more