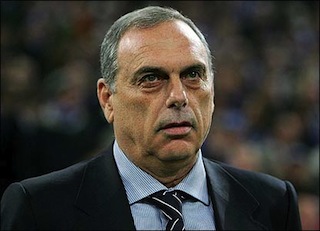 Ghana coach Avram Grant is unsure whether injured skipper Asamoah Gyan will be fit for Sunday's Africa Cup of Nations final against Ivory Coast in Bata.
Gyan is nursing a pelvic injury received during a collision with Guinea goalkeeper Naby Yattara in the quarter-finals last Sunday and he missed stormy Thursday's semi-final win over hosts Equatorial Guinea.
Former Chelsea manager Grant said the Black Stars did not train in Bata Friday so he could not assess Gyan's recovery.
"We can't say how he is because we could not even train (in Bata)," lamented Grant.
However, the coach said the Black Stars are motivated to rewrite history against the Ivory Coast on Sunday after losing the 1992 final to their west African neighbours on penalties in Dakar.
"They are very motivated, they do not need any speeches because we have come a long way as nobody gave us a chance. They will show this on Sunday," he promised.
"We have improved with every game. Algeria and Senegal were considered better than us and this was a challenge for us.
"There is one more challenge — the last one in this tournament.
"They (Ghana) know how to fight and play football."
Stand-in Ghana skipper and midfielder Andre Ayew said inexperience cost the team the 2010 Nations Cup final, which they lost 1-0 to Egypt in Luanda.
"For the 2010 final, we had about 14 players from the U20 World Cup (of the previous year). In that final we were attacking and attacking, but we couldn't score. We lacked experience," he recalled.
"But Sunday's final will be a good one for us. When you get to the final, you need to do everything to win."
The 25-year-old forward has shone at this competition, scoring three goals. He attributes this to confidence boosts from his team-mates and the coach.
"I have tried to raise my game because I have been given responsibilities both on and off the pitch. It is due to the group and the confidence from the coach," he said.