Maduabuchi Nmeribeh/Kano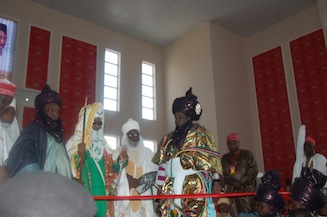 Nigeria's president, Goodluck Jonathan did not attend the coronation of Emir of Kano, Malam Muhammad Sanusi II held at the Coronation Hall, Government House, Kano, northwest Nigeria.
The Presidency did not send a delegation to the event either.
Sarki Muhammad Sanusi popularly known as Sanusi Lamido Sanusi is the immediate past Governor of Central Bank of Nigeria, CBN. In his last days as Governor, he exposed and implicated some of the president's aides claiming there was financial mismanagement, particularly, in the oil sector.
Though President Jonathan and Sarki Sanusi II are said to have mended walls, our correspondent reports that the president or his delegates were not at the coronation of the emir.
Dignitaries that graced the occasion include former Head of State and presidential candidate of the All Progressive Congress, APC, General Muhammadu Buhari; former Head of State, General Yakubu Gowon; APC National Leader, Asiwaju Ahmed Bola Tinubu; Governors, Adams Oshiemole (Edo); Ahmed Abdulfatai (Kwara); Ibrahim Geidam (Yobe); Abdullaziz Yari (Zamfara); Chibuike Amaechi (Rivers); Ramalan Yero (Kaduna); Babangida Aliyu (Niger); Kashim Shetima (Borno); President of Dangote Group, Aliko Dangote; Aminu Dandata, Speaker of House of Representatives, Aminu Waziri Tambuwal, Sultan of Sokoto, Sa'ad Abubakar III who was the father of the day, Senator Saminu Turaki, Senator Bukola Saraki, emirs, traditional rulers, captains of industry and members of the diplomatic corps.
The Emir, in high spirit, was led into the Coronation Hall by Shamaki and other royal guards in the company of high-ranking Chiefs in the Emirate Council.
His entourage arrived at exactly 10:10 a.m. He sat close to Governor Rabi'u Musa Kwankwaso of Kano and the Sultan of Sokoto, Alhaji Sa'ad Abubakar III.
At about 10:50 a.m., the Chief Imam of Kano, Prof. Sani Zaharadeen performed the administration of Oath of Office where the Emir vowed to uphold the tenets of Islam and the rich cultural heritage of Kano ancient kingdom.
Sarki Sanusi II was, thereafter, decorated with traditional regalia by Madkin Kano, Alhaji Yusuf Nabahani Ibrahim who was supported by Makaman Kano, Sarkin Bai Kano and Sarkin Dawaki Mai Tuta Kano. Items presented to the new Emir by the kingmakers includes a sword, spear, knife, bow and arrow. The presentation lasted for 10 minutes.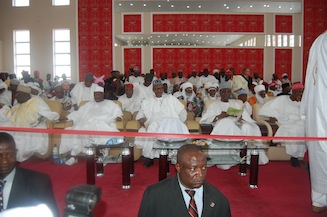 The decoration was followed by cheers and shouts of joy which rented the air, as the large crowd chorused Allah Alkubar. Governor Kwankwaso then presented the new Emir with the staff of office. This was greeted with traditional 21 gun salute to herald the authority of his royal office.
In his address during the traditional rites, Madakin Kano, Alhaji Yusuf Chigari who is the chairman, kingmakers committee, thanked Allah for sparing the life of the Emir and members of the emirate council to witness the coronation of the 57th Emir of Kano. He prayed for the repose of the soul of the late Emir of Kano, Alhaji Ado Bayero and also prayed that Allah will grant the new Emir the grace to lead his people in truth and wisdom.
Sarki Muhammad Sanusi II, thanked Allah for making it possible for him to witness the memorable day. He said the late Emir of Kano, Alhaji Ado Bayero spent 51 years, a height which no Emir in Kano has ever attained and prayed to God to bless his soul and give the living the fortitude to bear the irreparable loss.
He also prayed that Allah will give him the wisdom to lead the people of Kano in peace and harmony. He stated that his appointment would strengthen his resolve to contribute his widow's mite in fulfilling his obligations, stressing that God in his infinite wisdom and will is the one who gives power to whom he so wishes and expressed appreciation to all those who were responsible for his appointment as the new Emir of Kano.
He also promised to do his best by protecting the religion of Islam and to give advice where necessary and promote the welfare of his people while he declared the royal Saturday as a thanksgiving one.
Also speaking, Governor Kwankwaso described the appointment of Malam Muhammad Sanusi II as the Emir of Kano as a collective judgment of the people and that he is appointed to ascend the exalted throne on merit. He said the selection process that led to the appointment of Emir Sanusi II was rigorous and painstaking as the kingmakers went extra-miles in executing their responsibilities.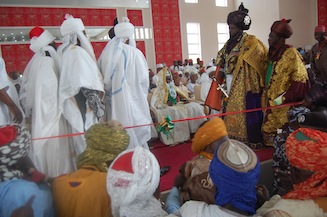 According to him, his decision to appoint Sanusi II out of the names presented to him was borne out of the conviction that he was equal to the task, pointing out that, his versed array of experience was enough to propel Kano to greater heights. The Governor said Emir Sanusi II was an embodiment of excellent scholarship and a seasoned technocrat who could remarkably turn the fortune of Kano around.
He expressed confidence that the people of Kano stand to regret nothing, having his fingers in the saddle of authority. Kwankwaso, however, stated that his stewardship as the governor of CBN was good omen to the people of Kano as a result of the effort he made in the establishment of micro-finance banks in the 44 Local Government Areas of Kano.
While paying a glowing tribute to the late Emir of Kano, Alhaji Ado Bayero, Kwankwaso stated that the late Emir firmly stood against all forms of injustice and persecution. He said Kano had greatly missed a rare gem in the death of the late Emir, adding that Emir Bayero would always be remembered as a pillar in the promotion of pure Islamic and cultural values.
"For me personally, this occasion is unique and historic, because destiny and fate has reposed upon me to administer the presentation of Staff of Office to the 57th Emir of Kano and the 14th in the Fulani ruling clan in the person of Malam Muhammad Sanusi II. While accomplishing this important Official State function, my mind went back to the tedious and thorough process the Government has to undergo in the selection process. However, what is certain is that the selection of His Highness Emir Muhammad Sanusi II was a meticulous process, with constructive engagements with the King Makers Council and also series of consultations with other stakeholders who were either contacted or offered free advise; all in an effort to ensure that the right person is appointed. At this point, I wish to extend our appreciation to all who had participated in the selection and subsequent appointment of the Emir.
"Let me also add that Emir Muhammad Sanusi's appointment was guided by collective and careful judgment of his ability, credibility and capability to provide the required purposeful leadership to enhance the Emirate Council and the general wellbeing of our people. Furthermore, His Highness appointment was justified, owing to the wide spread acceptance from Kano community and has drawn accolade from other spirited personalities from all walks of life. As we are all aware, the Emir is a highly knowledgeable person, a seasoned technocrat of International repute and an administrator per excellence. Above all, he is heir apparent of the throne who has distinguished himself as an outstanding religious scholar that is quite conversant with the dynamics of our time.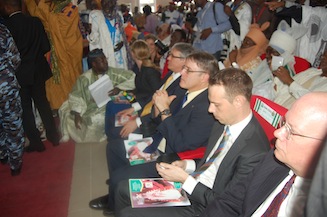 "Let me use this opportunity to underscore some of the various accomplishments we have been able to achieve in the last three and a half years or so. We began by improving our internal revenue base from 400 million to about 2billion naira. We also avoided frivolous expenditures by MDA's and cut recurrent expenditures saving up to N500 million monthly. We have passed legislations ranging from the ban on street begging, street hawking and stray animals on our streets. We have also implemented policies and social reform programmes like the mass wedding programme, house numbering and street naming exercise and other empowerment initiatives anchored by the Community Reorientation Committee (CRC) and our 26manpower development institutes like the Reformatory, Corporate Security, Sports, Hospitality and Tourism etc. So far over 360 thousand women and youth have benefitted from these programmes.
"Furthermore, we established 44 Garment Industries one in each of the LGA of the State and to give our young entrepreneurs access to finance; we established37 Micro-finance Banks in 37 Local Government Areas. We also made available a 6 billion-naira soft loan scheme. Where the State Government provided N3 billion while the Central Bank, Banks of Agriculture and Bank of Industry provided N3 billion. It is worthy to mention that our Emir Muhammad Sanusi II was instrumental in the actualization of these loan schemes. Other development endeavours in order toimprove and expand our
infrastructures,included the dualisation of all major road networks and putting up security plazas on all roads leading into Kano. We are alsoconstructing 5km dualised road with street light in each of the 44 Local Government Areas of the State.
"We have also constructed 3 flyoverstwo of which have been commissioned and the third is nearing completion. This is in addition to underpasses and overhead pedestrian bridgesat different locations of the city. We have also reconstructed some of the old city gates, established 3 new modern cities namelyKwankwasiyya, Amana and Bandirawo; laid about 200km of 400 – 1000 D.I pipes to ensure enough water supply to the State; we are constructing a 35MW Independent Power Project at Challawa-Gorge and Tiga Dams. We are glad that today Kano is adjudged to be the most lit State in Nigeria.
"The people of Kano are also living witnesses to how our administration has achieved remarkable feats in the area of Education where we established the University of Science and Technology Wudil in our first tenure in 2001 and the North West University in our second term in 2012. We were also able to construct a Main campus and other facultiesincluding a Medical College for the new University. Our administration also converted most of abandoned public buildings into model secondary schools, which includes Governor's College, Janbaki Girls College and First Lady College. We also and re-introduced Boarding Primary School along with 2 Bi-lingual Colleges in Niamey and Damagaran in Niger Republic. To accommodate the rising numberof our school enrolment figures, which rose from 1 – 3million; we constructed and furnished over 3000 classrooms and completed 1000 abandoned classes.
"We also equipped 300 science school laboratories and 100 libraries and computer rooms. Our concerted effort towards encouraging our people to acquire education was what led us to declare free education at all levels from primary to tertiary. We were also able to sponsor over 2,600 postgraduate and undergraduate students to study in 14 countries around the world and I am glad that a good percentage of these students have already graduated with excellent results.We have also been able to bring about a positive attitudinal change in our people. Our young men and women now hold jobs that were considered menial like security guard and taxi driving with pride and dignity.
"While our administration strives to continue to consolidate on these achievements, we expect the traditional institution to complement our efforts in that direction by constant sensitization and enlightenment of the citizens on governments' laudable policies and programmes. In this respect and in the trying moment of security challenges, we call on the cooperation of the traditional institution to continue supporting Government in the maintenance of public order and security, which include intelligence sharing and monitoring.
"Once again I have the singular honour and privilege to heartily congratulate His Highness, Muhammad Sanusi II in respect of hisCoronation as the 57th Emir of Kano and wish His Highness God's guidance, good health, long life and prosperity on the throne. I finally wish to extend our appreciation to all dignitaries for making time to grace this historic occasion."
The event was wrapped up with a beautiful Durbar that was staged at the Kofar Kudu arena in Emir's Palace, immediately after the coronation ceremony which took place at the 1500 sitting capacity Coronation Hall 2015 located in Government House.