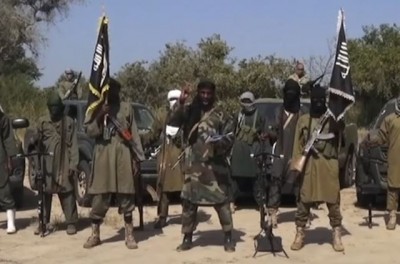 Boko Haram fighters waged a new attack on Sunday in a southeastern border town in Niger, where a blast killed at least one person and injured at least 10, witnesses and hospital sources said.
The Islamist militants launched the assault around the town of Diffa before dawn, just two days after their first major offensive in Niger in the area bordering Nigeria on Friday, witnesses said.
There were no immediate toll from the fighting between Islamist rebels and the Niger troops, whose parliament is due to vote on Monday on joining the regional offensive against Boko Haram.
Aid workers said the assailants had come from Nigeria, Boko Haram's home base, and reported heavy artillery fire.
The cause of the deadly blast in the centre of Diffa was not immediately known.
An official at Diffa town hall said the blast appeared to be the work of a female suicide attacker who blew herself up at the local market, while other sources referred to a bomb or mortar shell.
A local journalist said he had seen the body of a person killed and had counted 18 injured at the local hospital.
Boko Haram launched its first major attack in Niger on Friday, triggering a forceful response from regional troops who claimed to have killed more than 100 Islamists.
The fighting along the border with Nigeria have marked an expansion of the violence attributed to Boko Haram, which has waged a six-year insurgency centred in northeastern Nigeria, where the Islamists have seized swathes of territory.
Mounting worries over Boko Haram prompted Nigeria this weekend to postpone key national elections by six weeks, saying security could not be guaranteed for the polls because available military resources were being committed to intensified operations against the rebels.
In the first attack by Boko Haram in Niger on Friday, Chadian forces, who have taken a lead role in battling Boko Haram, fought alongside Niger's troops.
Regional efforts have intensified in recent days to end a conflict that has killed at least 13,000 people and forced more than a million from their homes since 2009.
Niger announced last week that it would ask its parliament on Monday to approve sending troops to Nigeria to fight the militants alongside Chadian and Cameroon soldiers.
Last week Chad launched a ground assault across the frontier to battle the jihadists and recapture the Nigerian town of Gamboru after having bombed the area beforehand. Chad's army said it had killed more than 200 Boko Haram fighters in the clashes.

Load more