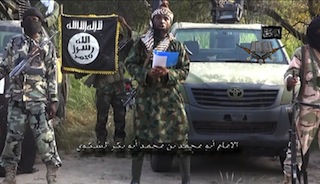 Boko Haram fighters waged twin attacks Sunday in Niger, their latest front in an expanding regional insurgency, claiming at least one life, reportedly that of a child.
The Islamist militants launched Sunday's first assault on the edge of the southeastern town of Diffa before dawn, just two days after their first major offensive in Niger, witnesses said.
A few hours later a suicide bomber reportedly blew herself up in the centre of the town, killing a child and wounding 20 people, a health official said by telephone.
"The child was working near a food vendor," the source said, requesting anonymity, adding that the injured were receiving treatment.
An official at Diffa town hall said the blast appeared to be the work of a female suicide attacker who blew herself up at the local market, while other sources referred to a bomb or mortar shell.
There was no immediate toll from the pre-dawn fighting Sunday between the Nigeria-based Islamist rebels and the Niger troops, possibly alongside Chadian forces, who have taken a lead role in battling Boko Haram.
Chadian soldiers fought alongside Niger's troops against the first cross-border attack by Boko Haram in Niger on Friday.
The Islamist fighters had been massed for months on the Nigerian side of the Komadougou Yobe river forming a small part of the border between the two countries.
Niger announced last week that it would ask its parliament on Monday to approve sending troops to Nigeria to fight the militants alongside Chadian and Cameroon soldiers.
The incursions into Niger mark an expansion of the violence attributed to Boko Haram, which has waged a six-year insurgency centred in northeastern Nigeria, where the Islamists have seized swathes of territory.
The conflict has killed at least 13,000 people and forced more than a million from their homes since 2009.
The uprising has become a regional crisis, with the four directly affected countries — Cameroon, Chad, Niger and Nigeria — agreeing on Saturday along with Benin to muster 8,700 troops, police and civilians in a regional effort against the militants.
Last week Chad launched a cross-border ground assault to battle the jihadists and recapture the Nigerian town of Gamboru after having bombed the area beforehand. Chad's army said it had killed more than 200 Boko Haram fighters in the clashes.

Load more