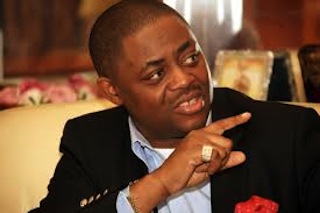 The Peoples Democratic Party Presidential Campaign Organisation (PDPPCO) has endorsed the postponement of elections as announced by the Independent National Electoral Commission, INEC, on Saturday night, a polar opposite position to the stance of the opposition All Progressives Congress.
In a statement , The Director of Media and Publicity of the PDPPCO, Femi Fani-Kayode, said the shift " is in the best interest of deepening democracy and in the national interest". The APC in contrast said it was a setback to Nigeria's democracy and highly provocative.
The PDP urged for the commendation of INEC " for showing the courage to shift the elections after acknowledging the fact that its state of preparedness was not 100 per cent."
"Since this decision has been taken in the interest of deepening democracy and in national interest, we accept it in good faith and we commend INEC's courage and obvious commitment to ensuring a free and fair election.
"With this decision, INEC has allayed the fears of many of our citizens that they may not have had the opportunity to vote for the candidates and parties of their choice on Election Day.
"INEC has, by the decision, ensured that no one will be disenfranchised and has helped to guarantee the safety and security of every single one of our citizens during the course of the elections.
"We are constrained to take this opportunity to wholeheartedly condemn the opposition APC for its paranoid delusions and its far-fetched and childish conspiracy theories when it comes to the issue of poll shift.
"By insisting that the elections should be conducted on February 14th the opposition was not only dangerously flirting with chaos but was also putting our country firmly on the path of confrontation, division, injustice, disaster and destruction.
"This is especially so, given the fact that no less than 34 percent of eligible voters have not been able to access their Permanent Voter Cards (PVCs) up till today- just seven days before the original date of the election. A situation where such a large percentage of our people would have been disenfranchised is unacceptable and the fact that the APC was insensitive to that fact speaks volumes.
"We are aware that INEC is having numerous logistical problems and numerous internal challenges and we believe that the poll shift will afford them the badly-needed time to tackle and resolve those problems and challenges before we arrive at the new dates that have been fixed for the elections.
"We believe that INEC must have drawn a useful guide from available security reports from the North-eastern zone where, despite the very serious challenges that our people are facing there from Boko Haram, we believe that elections must hold. We must insist on this in order to ensure that no parts of the country lose their right to freely, safely and peacefully participate in the coming elections and to vote for the candidates of their choice.
"It is against the backdrop of these developments that we commend INEC for finding the courage to do the right thing. In the same breath, we condemn the opposition APC leaders and members who are set to unleash confusion, mendacity and despondency everywhere and who are blaming everyone except themselves for the situation in which we have found ourselves.
"It is a glaring testimony to their irresponsible and reckless disposition that they continue to insist on having an election on a date that the institution that is constitutionally charged to conduct that election has said that it would be impossible to go ahead under the present circumstances.
"The shift of date is a welcome development. It is solely the decision of INEC. The decision is not ours but we commend them (INEC) for showing courage by owning up to the fact that they are not ready to go ahead on February 14th. The shift will help INEC to organise themselves properly, to put their house in order and to put in place all the necessary arrangements for the polls. The shift will also enable the nation's security agencies to do what they have to in order to secure the north-eastern zone and ensure that elections can hold there.
"In conclusion, we wish to encourage our supporters and we urge them to remain calm and to be patient. Our party is strong; our candidate is confident; our cause is just; our God is mighty and our victory is assured. No matter what happens and no matter how long it takes, we shall prevail. God bless Nigeria."