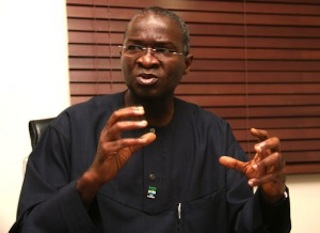 Governor Babatunde Fashola of Lagos says the Independent National Electoral Commission, INEC, postponed the general elections because the commission was ambushed by the Peoples Democratic Party (PDP) and the Federal Government.
Fashola spoke on Sunday after he collected his Permanent Voter's Card, PVC, at his polling unit in Surulere area of Lagos, Southwest Nigeria.
"I think that the reality is that INEC was ambushed by the PDP and the federal government and I think Nigerians must be disappointed but I use this opportunity to appeal to Nigerians to remain calm, especially to the supporter and members of the APC.
"This is just a matter of time and the momentum of change is already on and the momentum is a Nigerian-people momentum, but it's just that it would have consequences for us as a nation, the credibility of our governance is regrettably diminished. I don't know any serious democracy in recent times that has set dates and then changes them, except perhaps the last one was when a British Prime Minister backed down from elections, and you know what happened in the end, he was still defeated," he said.
The governor said when a country sets in motion a process like this, it ought to know that there would be political and economic consequences as investors and the global community watched what was going on, saying that the postponement of the election was very disappointing.
"You now even hear the presidency, the federal government, PDP saying they cannot guarantee security, they say it with such relish as if they have a choice in guaranteeing security. That is the primary purpose of government and when you say it in order to ambush an electoral manager into not conducting an election because you are afraid of defeat, I mean it's really a very low point for governance in this country because whether we go to elections or not, government will still have a duty to secure this nation.
"If countries like Afghanistan, Syria and all those countries where there was war and internal conflicts have held elections, I don't see why not. Don't even forget, we held elections in 2011. Some of these terror attacks have started as far back as 2010. So, where was the ability to guarantee security then? So, I think Nigerians can see beyond this smokescreen, but it is a deferment of the imminent date of change," he stated.
However, Fashola, after collecting his PVC encouraged those who have not collected their PVC to try and do so and hoped that with the postponement of the elections, INEC would also consider extending the time frame for people to collect PVCs.
On the audio tape alleging rigging of Ekiti elections, the governor said he was sure of those people who spoke on the recording, especially the one who claimed that the promotion of security officer was in his hands. "They have drawn the presidency into it. They said they were acting on behalf of the presidency. I am sure that fellow and even his grandchild will know that, that is his voice, so how he wants to deny it, I don't know."
"His own grandchildren will recognise his voice and many of us have already done. This must open the mind of the Nigerian people to what it takes to win an election. When Governor Aregbesola was celebrating, I know what he went through, because we have been through it, we have been in opposition here, and when we win elections in Lagos as we have always done, we know what it takes to do so, to keep votes that are legitimately cast for us.
"Those people in that audio are the examples of some of the kind of base desperation for power that you can never see. So, why ordinary Nigerians are struggling in the sun, trying to collect their PVCs, trying to vote, you see what they are doing at night, you see how seriously that party that they represent takes your vote and your effort and your sacrifice for democracy. I am sure now that Nigerians are getting wiser, because all of the things that they thought was done in the dark, is now out in the open," he stated.