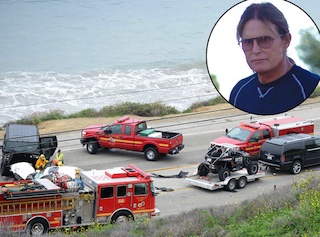 Olympic decathlon star and former stepfather to the Kardashian clan Bruce Jenner was involved in a car crash Saturday that killed one and injured several others, though he was unharmed, TMZ reported.
The deadly accident took place on the Pacific Coast Highway in the Los Angeles metro area while Jenner was being chased by paparazzi, according to the gossip news website.
The 65-year-old has Americans' rapt attention amid talk that he is soon to come out as transgender.
Jenner was driving a large SUV and was being trailed by at least five paparazzi when he collided with a white car that then swerved into oncoming traffic, TMZ reported. The driver of the white car died.
Citing unnamed law enforcement sources, TMZ said four vehicles were involved in the crash and that eight people were injured.
Jenner was pictured at the scene standing upright with no obvious injuries and was driven away in a police cruiser following the accident.
People magazine, a conduit for Hollywood publicists, has reported that the motivational speaker turned reality TV star would open up on his gender in a forthcoming interview with ABC News.
Jenner became an American sports hero when he set a world record with his Montreal decathlon victory in 1976.
But it was through his marriage to the former Kris Kardashian that he once again became a household name in the reality TV series "Keeping Up with the Kardashians," in which he appeared as the sometimes bemused stepfather of her flamboyant daughters Kourtney, Kim and Khloe, and their younger girls Kendall and Kylie.
The couple recently divorced.
Speculation that Jenner is undergoing a sex change has been rich fodder for supermarket tabloids for months.
Paparazzi photos from Los Angeles have captured him with shaved limbs, long hair worn in a ponytail and what appears to be a sports bra under a T-shirt.
In late January, Jenner was seen emerging from a Beverly Hills clinic with a bandage around neck, presumably after surgery to flatten his Adam's apple.