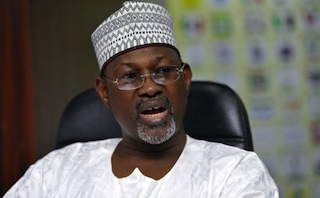 There are have been accusations and counter-accusations regarding the postponement of the 2015 general elections with Nigerian authorities coming under fire on Sunday over the decision to postpone national elections in the face of relentless Boko Haram violence, with the opposition branding the move a "major setback for democracy".
Nigeria's electoral commission announced over the weekend that the presidential and parliamentary polls would be postponed from February 14 to March 28.
The announcement came after weeks of near-daily attacks by the insurgents in the north-east, which had threatened the safety of the vote.
But some observers charged that the political woes of incumbent President Goodluck Jonathan — who faces a stiff challenge in his re-election bid against ex-military ruler Muhammadu Buhari — were the real reason for the delay.
Buhari said the independence of the Independent National Electoral Commission (INEC) had been "gravely compromised" by the six-week postponement.
"Although INEC acted within its constitutional powers, it is clear that it has been boxed into a situation where it has had to bow to pressure," he told a news conference in Abuja.
His All Progressives Congress (APC) went further, calling the decision a "major setback for democracy".
In announcing the postponement INEC chairman Attahiru Jega cited security fears sparked by Boko Haram's swing through the northeast of Africa's most populous country.
Gubernatorial and state assembly elections were shifted from February 28 to April 11.
National security advisor Sambo Dasuki had warned that voter safety could not be guaranteed on February 14 because all available military resources were committed to an intensified operation against the Islamists.
The United States said it was "deeply disappointed" by the delay, with Secretary of State John Kerry warning the government against using "security concerns as a pretext for impeding the democratic process".
British Foreign Secretary Philip Hammond voiced similar concerns.
Jonathan's ruling People's Democratic Party (PDP) is facing its first serious electoral challenge since the end of military rule in 1999.
Buhari, who has positioned himself as Nigeria's top anti-corruption crusader, is believed to have locked up a majority in the mainly Muslim north, his home region, while building support among southerners fed up with graft.
– 'All necessary measures' –
There had been widespread fears about security for the elections, with Boko Haram intensifying its bloody six-year insurgency in Nigeria and spreading its campaign of terror into neighbouring countries.
Hundreds of thousands of people displaced by the fighting are at risk of being disenfranchised.
Dasuki, the security adviser, had first raised the prospect of a postponement last month when he noted difficulties in distributing voter identity cards.
INEC head Jega had said as recently as last week, however, that the electoral body was ready for the vote and that 68.8 million voters had been registered.
In an about-turn Saturday he said the military "may not be able to provide the traditional support" they provide during elections, necessitating a delay.
– 'Destroy democracy' –
Jibrin Ibrahim, a political analyst with the Centre for Democracy and Development, said Nigeria's security agencies had forced Jega into the delay on "frivolous" grounds.
"They say they need six weeks to defeat Boko Haram. Boko Haram has been growing for six years… If in six weeks Boko Haram has not been defeated, they could call for another delay and ultimately destroy Nigerian democracy," he added.
A coalition of more than 20 civil society groups said the military's inability to deploy for the election amounted to "an abdication of its constitutional duties".
The postponement "appeared contrived to truncate the democratic process in Nigeria," the coalition said.
The ruling PDP, however, hailed the postponement as "in the best interest of democracy".
Analysts said the ruling party could use the extra time to rebuild lost support, noting that its superior financial resources put it on a better footing to run an extended campaign.
Boko Haram carried out renewed attacks in neighbouring Niger on Sunday, triggering several hours of fighting with government troops.
The militants battled Niger soldiers for two and a half hours on the edge of the southeastern town of Diffa, witnesses and humanitarian sources said.
A few hours later, a major explosion rocked a central market. The cause of the blast was unclear.
Chad, Cameroon and Niger are working with Nigeria against Boko Haram. The regional forces have claimed several successes recently against the Islamists.
Experts say further gains are possible in the six weeks before the election but note that Boko Haram has staying power.
"To dislodge Boko Haram from all these areas in a period of six weeks would be an unprecedented feat," said Ryan Cummings, chief Africa analyst at Red24 risk consultants.

Load more