Simon Ateba/Lagos
The two leading governorship candidates in Lagos State, Jimi Agbaje of the People's Democratic Party, PDP, and Akinwunmi Ambode of the All Progressives Congress, APC, on Monday signed a Peace Pledge committing them to non violence during and after the 11 April governorship election.
The pledge was signed at the official residence of Jeffrey Hawkins, the United States Consul-General in Lagos, in the presence of the U.S. Ambassador to Nigeria, James F. Entwistle, as well as Nigerian religious leaders.
Each of the candidates was made to sign a pledge that read "I (Akinwunmi Ambode, Jimi Agbaje), do hereby pledge on behalf of myself and my supporters, to promote peaceful participation in the 2015 election and beyond. I do further pledge to accept the outcome of the Lagos State election, whatever it may be, and to seek redress for any perceived injustice through legal and legitimate channels."
It was signed by the two candidates, Agbaje and Ambode, as well as Ambassador James Entwistle. Others signatories were Archbishop Alfred Adewale Martins, the Catholic Archbishop of Lagos, Imam Abdulrahman Ahmad, National Missioner of Ansar-ud-Deen Society of Nigeria, Pastor Paul Adefarasin, Senior Pastor and prelate of House on the Rock, and Sheikh Abdurrahman Adangba, National Missioner of Fatil-ul-Qareeb Islamic Society.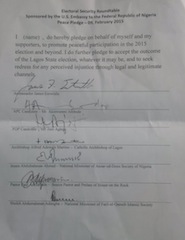 In a question and answer session, Ambode and Agbaje to advocate peace no matter the outcome of the election through legal channels.
The religious leaders urged them to remain peace and call on their supporters to embrace peace and not violence.
On why only two candidates were invited, Entwistle said the signing ceremony is just symbolic.
He said it was important to focus on what was being done rather than was not being done.
On 25 January when American Secretary of State, John Kerry, visited Nigeria, he met with only President Goodluck Jonathan of the PDP and Muhammadu Buhari of the APC, although there are 14 presidential candidates.