Jethro Ibileke/Benin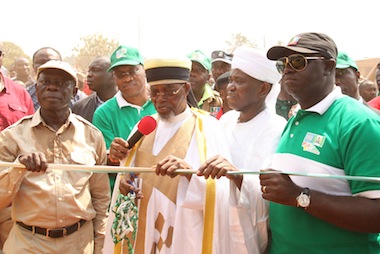 Governor Adams Oshiomhole of Edo state over the weekend accused past governments of Peoples Democratic Party (PDP) in the state of duplication of contracts that were never completed, yet paid for.
Oshiomhole who made this allegation when he flagged off a World Bank assisted N7.8 billion gully erosion control in devastated areas like Auchi in Etsako West local government council, Queen Ede in Ogbeson quarters Benin City and parts of Ekheuan Road, said he was shocked that the Queen Ede erosion project was purportedly awarded by the state government before he came to power and was also reportedly awarded by the federal government when his administration approached the federal government for intervention.
"My first visit to this place was on a Sunday, about the second or third week of my resumption of office, someone drew my attention that there was a serious problem in this area, I came around and I was shocked at what I saw, but I saw an abandoned tractor around the valley and when I asked for the status of the project report, the ministry official told me that job was on going and subsequently I invited him to show me what he meant by job is ongoing because what I saw here was an abandoned equipment and there was not one worker on site and when we came here, he showed me the tractor and he said that was what they meant by the job is ongoing.
"But that was not the only thing that I found very, very strange…it was very clear that the job was never meant to be done and it was a cover to siphon fund. Few months later, I wrote to Abuja to complain about the erosion challenges in this state and I wrote quite a number including Queen Ede particularly when my attention was drawn by the Edo State Ministry of Works to the fact that this erosion was caused by the design errors when the Asaba road was being constructed by the federal ministry of works.
"I asked the federal government to provide the funds to fix it. We were honoured by the visit of the Minister of Environment and he said he had invited the Benin Owena River Basin Authority to come to show me what they were doing about this same erosion. So, I offered to accompany him, we got here and he was showing me the same site, that the federal government was doing the same job," the governor said.
According to him, it's a real scandal where Edo state government under PDP awarded the contract and paid money for it and the PDP federal government awarded the same contract paid money for it and each of them claimed that they were doing the job, which he said has simply caused more complications.
While noting that the opposition party has accused him of borrowing, Governor Oshiomhole disclosed that Edo remained the least indebted state in the south-south and that all it has borrowed, it has been servicing regularly, adding that N7.8 billion facility was with less than one per cent interest rate and repayment spread across 30 years.
"I have seen on television, the PDP chairman accusing Edo state government of borrowing money to fix this erosion project, the problem is there is nothing new to be said about the PDP in this state, the problem is when we harass them, they can't say look at what we did.
"They say even the schools we are building, they have federal government content and I said if there is a federal government content, where was that content for ten years when they were here. Where you had a federal PDP and state PDP government, how come there was no federal content so if it takes an APC government to get a federal content, then the more reason we should forever keep PDP out of this place.
"I hear them saying we are borrowing, the money for this project, yes we borrowed but we have paid our first counterpart funding and the interest rate is less than one per cent," he said.

Load more