Abiodun Onafuye/Abeokuta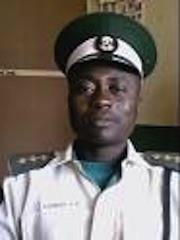 Six persons were seriously injured Sunday morning in an early accident that occurred in Sango area of the Ado-Odo/Ota local government area of the State.
The incident which occurred in front of the Gateway Hotel, Ota, Dalemo area involved two vehicles on high speed; a Volkwagen bus (Popularly called Faragon) with registration number AAA 878 XL and a Lagos commercial bus (Mazda) with registration number AKD 226 XB.
Confirming the incident to our correspondent, the TRACE Commandant, Ota zonal Command, Adekunle Ajibade disclosed that those that were involved in the accident have been taken to the general hospital for treatment.
Ajibade revealed that the accident was caused by speeding from both drivers who were eager to drop their passengers and hurriedly pick others.
According to him,"this is what we have been telling our people and we will not relent in the area of educating and sensitising them on the usage of the road. The accident could have be avoided if the drivers were not on high speed. It is something we can avoid, but the negligence and greediness of some motorists have been serious cause of most of the accidents and it was the cause of what happened this morning.
"The injured people have been taken to the General hospital by our men and officers while those with minor injuries have return to their various houses. We are trying to evacuate the remnants on the road so as not to cause gridlock on the road which always busy on a day like this for those going to churches,"Ajibade revealed.
Meanwhile,the joint traffic control system planning by the security agencies around the area to decongest the ever busy Sango -Agbado -Alakuko -Amje road along Lagos – Abeokuta road has commenced today.
The security personnel which includes the Federal Road Safety Corps,FRSC, TRACE,Nigeria Security and Civil Defence Corps,NSCDC and the Police within the Ota zonal areas have been meeting in the last one month on how best to tackle the gridlock that always affect free flow of vehicles at the old toll gate in the Sango axis of the State.
Explaining the motives behind the joint traffic control on behalf of others,the Ota zonal Commander of TRACE, Adekunle Ajibade declared that they have fully battle ready to ensure free flow of traffic around the area.
He agreed that the area has become a serious challenge for them,promised that with the new ideas,which according to him,is going to be a continuous exercise, will ease the traffic congestion within the area.
Ajibade however advised other zones to emulate the lofty idea in some areas within the State with similar traffic problem.