Kazeem Ugbodaga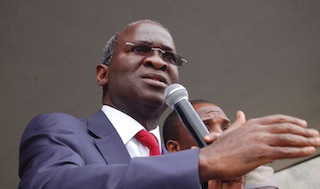 Lagos State Governor, Babatunde Fashola has condemned soldiers' siege on the Bourdillon residence of the All Progressive Congress, APC, National leader, Asiwaju Bola Tinubu.
Soldiers had been deployed to Tinubu's residence where they have kept surveillance of the house for three consecutive days, raising fear that the central government is trying to cow the opposition party to submission.
Speaking at the APC campaign rally in Ejigbo area of Lagos, Southwest Nigeria on Tuesday, Fashola said the federal government is even removing security from INEC.
"In the last three days, they deployed soldiers to the home of Asiwaju. Every night now, they send a truck load of soldiers to his home. But I have news for them, we will not be intimidated by their actions.
"Our votes will speak for us. Let me remind them that if Yar'Adua was alive, the owner of this mandate, he will be preparing to leave the office now. When President Goodluck Jonathan was seeking for our votes in 2011, he didn't deploy soldiers to our homes rather he was begging us.
"He said that he had no shoes. And after he assumed office, he has since inflicted pains on us. After giving him 1.2 million votes, we have no minister and that shows that he doesn't care about Lagos. But we need to let him know that Lagos is unique," he said.
The governor said Jonathan-led administration has been lying to Nigerians over what it did not do, saying that the Federal Government said that they have constructed 25,000 kilometres of road network since the beginning of this administration.
"And if one divides the number by the states and the FCT, it means that FG would have succeeded in constructing 690 kilometres in every state. From Lagos to London, it is 5,025 kilometres. But it is alarming that Nigerians cannot see the roads. For instance the Lagos-Ibadan expressway is 104 kilometres, and it is not good. This administration has never budgeted 40 per cent of its budget for capital project," he stated.
Also speaking at the rally, the Lagos APC Governorship candidate, Akinwunmi Ambode promised to turn the Ejigbo Playing Ground to a stadium, saying he was ready to improve on anything that Fashola did not finish.
"Wherever he stops, I am going to continue with it. I have said it, I am going to integrate tourism, hospitality, entertainment and sports together to create more jobs for all our youths. We have said it, we are looking for more jobs for all our young ones, we would also create an employment trust fund, which would allow you to have access to free capital so that you can do all the things that you've always learnt to do.
"In addition to that, we would create a small credit guarantee scheme for all our small businesses and all our entrepreneurs. What does that do for all of us? It will allow our mothers, our fathers and our young ones to do whatever it is they decide to do on their own. When they make more profit, they would employ more people and this would take more people off the street. If we take more people off the street, it would improve on the provision of the infrastructure," he stated.

Load more