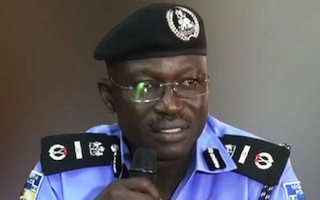 The Inspector General of Police has redeployed 33 Commissioners of Police in line with the determination and drive to enhance the administrative and operational effectiveness of the Nigeria Police Force.
Abba has with immediate effect redeployed the Commissioners of Police (CPs) to Commands and Formations. CP Musa Katsina Mohammed was redeployed from National Institute for Policy and Strategic Studies, Jos, (NIPSS) to Oyo state. CP Damilola Samuel Adegbuyi who was at Special Fraud Unit FHQ ABJ was redeployed to Edo state while CP Ibrahim K. Idris of Police Mobile Force (PMF) is now the new CP of Kano state.
Others are: CP Adeyemi O. Samuel Ogunjemilusi at CP Interpol, FHQ ABJ to Kogi State; CP Danladi Y Mshelbwala of Explosive Ordinance Disposal Unit (EOD) has been moved to Kebbi state.
CP Shuaibu L. Gambo of Sokoto State is now Counter Terrorism Unit, FHQ; CP Usman Tilli Abubakar of NIPSS Jos now CP Jigawa state; CP Olufemi David Ogunbayode of NIPSS Jos now CP Zamfara State; Waheed Olayikan Salau of Airport Command has been redeployed to NIPSS Kuru Jos; CP Dorothy A. Gimba of NIPSS Jos is now at Airport Command; Foluso A. Adebanjo of Edo state now at NIPSS Kuru, Jos.
Agboola Oshodi-Glover, ICT, FHQ, Abuja now redeployed to NIPSS Kuru, Jos; CP. A.K. Shodipo of Oyo State is now at Special Fraud Unit FHQ, ABJ; Idris Faruk Umar of Jigawa State is now CP Intelligence; CP Usman Yakubu of Nassarawa State redeployed to NIPSS Kuru, Jos.
Mohammed Sani Usman of Dept of Planing & Statistic, FHQ ABJ now Nassarawa State CP; Ibrahim Adamu of Abia State redeployed to NIPSS Kuru, Jos; Salisu Fagge Abdullahi of Special Protection Unit (SPU) FHQ ABJ now Sokoto State CP.
Bauchi State CP Lawal Shehu now at Dept of Finance & Admin, FHQ ABJ; Nyats Nyehsu Jatau of CP Railway Lagos is now Taraba State; Tijani Baba of Zamfara State redeployed to Special Protection Unit, FHQ ABJ.
Mohammed K. Mohammed, Deputy Commandant Police Staff College, Jos now Bauchi State CP; Paul E. Okafor of Kogi State redeployed to Bayelsa State; Vanletine U. Ntomchukwu of Bayelsa State to Ogun State; Ademola Omole of Taraba State to Deputy CMDT, Police Staff College, Jos; Joshak Habila of CP Counter Terrorism Unit FHQ ABJ to Abia State; Rasheed Olatunde I. Akintonde of CP Intelligence FIB FHQ now at CP Interpol FHQ ABJ.
Others are, Ishaku Alhaji Barau of Kebbi State now Commandant Police Detective College, Enugu; CP Sam Okaula of State CID Delta State now at General Investigation, FCID FHQ ABJ; CP DibaL Paul Yakadi redeployed from 2i/c Anambra State to Police Mobile Force FHQ ABJ; Haruna Huzi Mshelia of National Defence College, ABJ to Commandant Police College, Orji-River, Enugu; CP Usman Ali Abdullahi of Police Co-operative redeployed to CP Railway Command and CP
Mohammed A. Mustafa of 2i/c Akwa-Ibom State to Explosive Ordinance Disposal Unit, FHQ ABJ.
The statement by Emmanuel Ojukwu, Force Public Relations Officer, Force Headquarters said the postings are in line with efforts to reposition the Force, filling vacancies created and in view of Officers proceeding on course at the National Institute of Policy and Strategic Studies (NIPSS) Kuru, Jos as well as posting of returning Senior Officers from NIPSS.

Load more