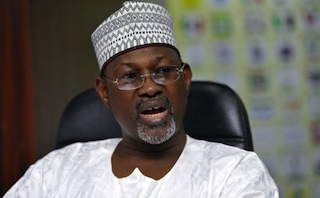 The spokesman for the Independent National Electoral Commission, INEC, Mr. Kayode Idowu, has debunked reports that INEC Chairman, Prof. Attahiru Jega, would proceed on terminal leave on 1 March this year.
Idowu, who spoke on a TV programme monitored in Lagos, southwest Nigeria, on Tuesday, said Jega's appointment was not guided by civil service rules and so he would serve until his tenure elapses on 30 June this year.
After the postponement of the elections last weekend, there have been reports that President Goodluck Jonathan's next move is to relieve Jega of his job and replace him with a pliant person to conduct the elections.
Idowu also said the ballot papers for Nigeria's presidential election scheduled to hold on 28 March were ready.
He said the ballot papers had been delivered by the printers and that they were being kept in the vault of the Central Bank of Nigeria.
He also disclosed that thousands of ad hoc staff were being trained for the elections initially billed to take place on 14 and 28 February but shifted to 28 March and 11 April.
He said the postponement would allow INEC perfect its preparations for the polls, adding that there can never be 100% preparations for an election since things continue to change until the last day of the polls.
But Idowu may not be right after all on reports that Jega may be asked to proceed on terminal leave in March.
A Federal civil service circular, issued by former head of service, Alhaji Isa Bello Sali entitled, 'Three Months pre-retirement/terminal leave' made no distinction as to whether one is a career civil servant or a political appointee.
According to the circular, "It has been observed that the mandatory notice of retirement for officers who are due to retire is not being observed as provided for in the extant rules. Accordingly, it has become necessary to reiterate the provisions of Public Service Rules (PSR) 100238 which states that officers are required to give three months notice of their retirement from service terminating on the effective date of their retirement"
The circular was addressed and sent to the Chief of Staff to the President, Chief Justice of the Federation, all Ministers, Secretary to the Government of the Federation, Service Chiefs, the Inspector-General of Police, Chairman Federal Civil Service Commission, the Chairman, Economic and Financial Crimes Commission (EFCC), and the Chairman of Independent National Electoral Commission (INEC). Others are Heads of extra-ministerial departments, the Accountant-General of the Federation, Auditor-General of the Federation, Surveyor-General of the Federation, Directors-General/chief executives of parastatals and agencies.
Jega's predecessor, Prof Maurice Iwu. Iwu's tenure was due to expire on June 13, 2010. However, on April 28, 2010, then acting President Jonathan, ordered Iwu to proceed on terminal leave.
Former IGP Abubakar's tenure was due to end on July 30, 2014 but he proceeded or was sent on terminal leave on May 12, 2014. Former Chief Justice of the Federation, Justice Dahiru Musdapher voluntarily proceeded on terminal leave three months before the constitutional or mathematical end of his tenure.
Load more