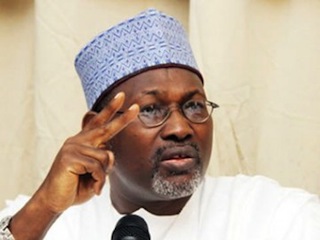 President Goodluck Jonathan has stated that he has no plans to sack Prof. Attahiru Jega, chairman of the Independent National Electoral Commission (INEC) in a televised presidential media chat.
Jonathan's statement clears the air on rumours that Jega will be forced on terminal leave by the president, as there are claims that the INEC boss was forced to postpone the general elections earlier slated for February.
"I appointed the INEC chairman and all the Resident Electoral Commissioners but I also have the constitutional powers to remove but will not do so. I have not told anyone, I intend to remove Jega," the president said.
He noted that if he did not believe abilities of Jega, he would not have appointed him. "I want all Nigerians to know that INEC will conduct elections and a government will be inaugurated on May 29," he said.
Jonathan stated categorically that he was not consulted when the elections were rescheduled by INEC boss, Jega. "I was not consulted and I don't want to be consulted," Jonathan said, insisting that election officials made an independent decision after receiving guidance from the security agencies.
The opposition and some independent commentators have argued that Jonathan's Peoples Democratic Party had pushed for the delay fearing that it was heading for electoral defeat.
But Jonathan said he did not "see the big deal" concerning the postponement, as the Independent National Electoral Commission acted within the constitution.
He said difficulties in distributing voter identity cards and security concerns in the northeast region besieged by Boko Haram Islamist militants were legitimate reasons for a delay.
He added that the "international community" occasionally sees election delays in Africa as an excuse by the incumbent to "extend tenure."
"That is not the case in Nigeria," he told a panel of reporters, assuring that a democratically elected government will be sworn in on May 29, in keeping with constitutional provisions.
Jonathan is facing a tough challenge from former military ruler Muhammadu Buhari of the opposition All Progressives Congress and most experts have said the race is too close to call.