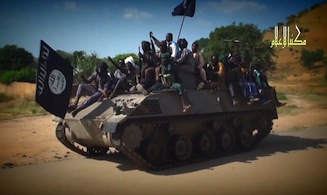 Militants from the Boko Haram Islamist movement attacked Chadian troops stationed at a Nigerian border town before being repulsed Wednesday, a Chadian military source said.
"The Boko Haram elements wanted to surprise us by attacking at about 4:00 am (0300 GMT). We were aware about it from the day before and were prepared," the military source told AFP.
The attack took place at Gamboru on Nigeria's border with Cameroon, where Chadian troops deployed to help in the complex regional battle against Boko Haram have taken up positions.

Load more