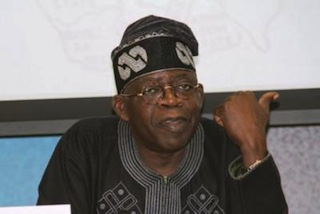 Major General Tamubomiebi Dibi, the General Officer Commanding (GOC) 81 Division, Lagos, has said that it was an incisive allegation that armed soldiers were amassing at the Bourdillon home of Senator Bola Tinubu.
Dibi told NAN on telephone on Tuesday that it was a figment of imagination of anyone to contemplate that armed soldiers had been deployed to Tinubus' house.
"It is all a ruse as no politician in Lagos, including the chieftain of the All Progressives Congress (APC), Tinubu is under military watch list," he said.
Dibi said soldiers in the Lagos State Security initiative, the "Operation Mesa (OP Mesa"' and "Quick Response Group (QRG)" had always been on patrol in the Ikoyi and Victoria Island areas.
He said that no soldier had been deployed specifically to keep surveillance on the APC leader.
The GOC said: "Why should we deploy soldiers to monitor Sen. Bola Tinubu, there is no need for it as he has not done anything wrong".
Dibi further said that the relative peace enjoyed in the state stemmed from the involvement of the military in "QRG and OP Mesa" organised by Lagos state.
"The soldiers are not deployed to take over, surround or mount surveillance on Tinubu's house," he explained.

Load more