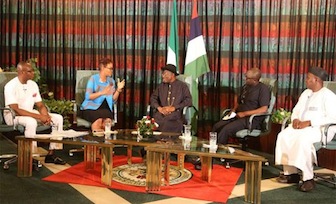 President Goodluck Jonathan on Wednesday in Abuja dismissed threats of war from some quarters of the country over the outcome of the 2015 general elections.
Jonathan, who fielded questions from newsmen at the presidential media chat, said that anarchy would not be condoned in Nigeria as the country was bigger than the interest of any individual.
According to him, journalists also have a duty in defusing tension in the polity through their reportage.
The president reacted to a question that the Niger-Delta ex-agitators had threatened that there would be war if he lost the 2015 polls.
"We cannot destroy this country and we cannot encourage anybody who wants to destroy this country."
On the war against insurgency and securing the release of the kidnapped Chibok girls, he expressed optimism that the synergy with neighbouring countries would yield positive results.
He said that the Federal Government had acquired weapons from some countries which would help in the prosecution of the war against insurgents.