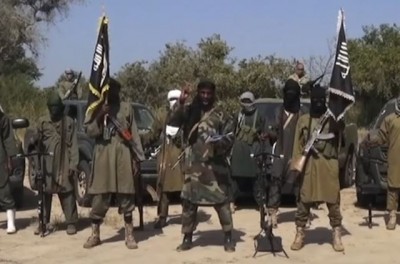 A suicide attack by a female bomber killed at least seven people at a market in northeast Nigeria on Thursday, the latest bloodshed in a region where multi-national forces are trying to crush Boko Haram Islamists.
There was no immediate claim of responsibility for the attack in the town of Biu, Borno state, but it resembled a spate of similar bombings blamed on the Islamists militants.
The blast followed a foiled suicide attack on Wednesday and a Boko Haram raid on police earlier this week in neighbouring Yobe state.
The conflict has killed more than 13,000 since 2009 and become an increasing regional threat, forcing a six-week delay to Nigeria's general elections, as neighbouring countries begin a fight-back.
Nigeria, Cameroon, Chad and Niger this month launched an unprecedented joint effort to crush the uprising, raising hopes that this new cooperation could turn the tide.
Nigerian President Goodluck Jonathan on Wednesday vowed that "serious advances will be made" over the next six weeks, meaning security will have improved by the new election day, March 28.
"But I'm not saying (we will) wipe out Boko Haram," he added.
In Niger, attacked by the insurgents for the first time last week, the ruling coalition called for a national protest on February 17, urging people to "close ranks" against "the terrorists of Boko Haram."
– Female bomber –
The blast, at about 3:15 pm (1415 GMT) in Biu, 180 kilometres (110 miles) south of Borno's capital Maiduguri, hit a market packed with hundreds of buyers and traders, witnesses said.
A nurse in the town's main hospital gave a death toll of seven, in an account supported by two others.
Trader Auwal Yusuf said the suspected bomber appeared to have been riding in a van that was bringing goods to the market.
Four witnesses identified the bomber as a woman, including Zakka Emmanuel, who said that he also counted 20 others who were "seriously bleeding" after the attack.
Boko Haram has been blamed for using women and young girls as human bombs as part of its deadly campaign to create a hardline Islamic state in the country's far northeast.
Biu is the biggest town in southern Borno and Boko Haram fighters have made repeated attempts to bomb the market, which is open on Mondays and Thursdays.
Last month, scores of insurgents tried to raid Biu but were pushed back by the military.
– Police attacked –
Militants stormed a police station in Kanamma in Yobe state late Monday, multiple sources said, with details slow to emerge because of poor communications in the remote area.
"The terrorists overpowered our men and set the police station on fire before kidnapping the DPO (district police officer), whose body was later found in the bush," said one senior officer, who requested anonymity.
Several other policemen were killed, he added.
Kanamma holds significance in the history of the Boko Haram conflict.
The group was formed in Maiduguri, the capital of neighbouring Borno state in 2002 but a hardline faction relocated to Kanamma in 2004 and attempted to form an extremist enclave in the town which they called "Afghanistan", taking inspiration from the Taliban.
They clashed with the military in Kanamma in January 2004 in the first known case of unrest involving the group.
The latest violence there was several hundred kilometres (miles) from the eastern edge of Borno state, the current epicentre of the multi-national offensive.
That gave an indication that regional armies have substantial ground to cover if they hope to crush the insurgency.
– Bombing thwarted –
In Yobe's economic capital Potiskum, multiple witnesses said an attempted suicide bombing was thwarted outside the campaign office of Governor Ibrahim Geidam.
The suspect reportedly raised suspicion by loitering outside the office and was confronted by a crowd, causing him to run into an abandoned building where he blew himself up, according three witnesses.
A similar incident outside a political office killed seven people on February 1 in Potiskum, while the next day a suicide bombing hit a presidential campaign rally in Gombe just after Jonathan left the site.