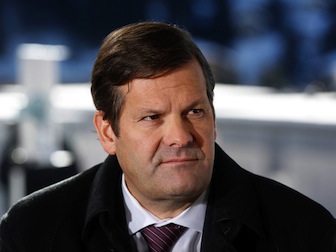 The head of Canada's Bombardier stepped aside Thursday in a major shakeup of the world's third largest aircraft manufacturer, after posting a $1.2 billion loss last year.
Pierre Beaudoin will be replaced as chief executive by Alain Bellemare, while he takes on a new role as executive chairman of the board.
The chair was held by his father Laurent. Both are heirs of company founder Joseph-Armand Bombardier.
The change at the top follows a new round of job cuts announced last month — part of a third turnaround plan since 2013, amid delays in getting its new CSeries jetliners off the ground.
New Bombardier CEO Bellemare — former head at United Technologies' aerospace division — once worked for UT's subsidiary Pratt & Whitney, whose engines were selected to power Bombardier's CSeries passenger aircraft.
An engine problem arose in 2013 testing that delayed the CSeries rollout. The first jetliners are now expected to be delivered in mid-2015, said spokeswoman Isabelle Rondeau.
In its annual report, Bombardier said its 2014 losses are mainly due to the manufacturer's decision to suspend its Learjet 85 business aircraft program.
The losses follow a $572 million profit the previous year.
The medium-sized CSeries is Bombardier's entry into airspace dominated by Airbus and Boeing.
Meanwhile the company's stock price has plunged 60 percent since Beaudoin took the reins in 2008.
It fell another 10 percent in early trading in in Toronto on Thursday to below Can$3, after the company posted its financial results.
Its 2014 revenues were $20.1 billion, up nearly 11 percent compared to $18.2 billion the previous year.
Going forward, the company said it expects another tough year in the aircraft business, but is forecasting continued strength in train sales.

Load more