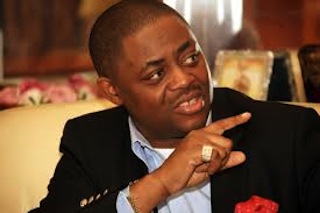 Femi Fani-Kayode, Director of Media and Publicity of the organisation, has claimed that the Independence National Electoral Commission (INEC) chairman, Prof. Attahiru Jega may be working with Nigeria's main opposition party to rig the forthcoming elections.
Fani-Kayode made the accusation at a news conference in Abuja on Wednesday, alleging that, Jega have made the Permanent Voter Cards (PVCs) available to voters in places where General Muhammadu Buhari, the All Progressives Congress candidate is popular.
"The matter is that INEC has failed in its responsibility to produce and distribute PVCs to about 34 per cent of registered voters who would require the cards to vote in the elections.
"This brings us to the issue of statistics of PVC distribution and collection, which we believe Prof. Jega, as a person, acting in concert with some forces of retrogression, is playing games with.
"We express our concerns today that Jega may have decided to aid the APC to rig the forthcoming elections through the manipulation of the production, distribution and collection of PVCs," he said.
He wondered why the collection rates of PVCs in the North Central, South-South, South West and South East regions assumed to be pro-President Goodluck Jonathan, were much lower with the highest being 57 per cent.
He noted that the North West zone which includes Katsina, the home state of Buhari, APC presidential candidate, had the highest collection rate of 80 per cent.
He also wondered how come the North-East also had 75 per cent collection rate when the three states in this zone, Adamawa, Borno and Yobe, had been under the attack of Boko Haram insurgents.
"Pieces of information at our disposal have shown that Jega has had meetings with APC stalwarts in Dubai and other cities in the world to perfect this wanton conspiracy against 23 million eligible voters.
"Besides, we have information that the PVCs that Nigerians are scrambling for are not in Nigeria and will not arrive before the elections.
"These PVCs are still in China and Prof Jega has strategically delayed their arrival to suit his electioneering permutations," he said.

Load more