Jamiu Yisa
As the clock ticks towards next month's general elections, the ruling Peoples Democratic Party, PDP and opposition All Progressives Congress, APC, have continued to engage in different strategies to woo the electorate.
The two parties have devised every means possible to woo the electorate. These range from giving out customised mobile phones, recharge cards, bags of rice and loaves of bread to say the least.
The PDP seems really more desperate to win the 2015 elections, and has outspent its opponents on campaign gifts.
One of such gifts is the PDP branded mobile phone, a dual-sim phone which bears the party's logo.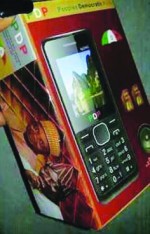 Boldly inscribed on the carton is the party's logo, as well as the photo of the party's presidential and vice-presidential candidates, Goodluck Jonathan and Namadi Sambo.
Notable among PDP chieftains who give out mobile phones during campaign is Segun Adewale.
Adewale who is also known as Aeroland, is the party's Lagos West Senatorial District candidate in the forthcoming elections.
Part of his campaign startegies include sharing of money, T-shirts, ipads, mini refregerators, TV sets, decoders, note books among other things.
APC candidates on their part use recharge cards of different denominations to woo voters.
There is also a customised mobile phone with APC logo inscribed on it  for the electorate.
Nigerians have expressed mixed feelings about these campaign strategies. While some are in support of the strategies, others are not.
Chucks Ikemefuna said he would collect the phone and would not vote for them.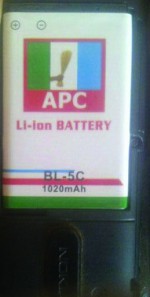 According to Siji Akanmu, "are they going to supply credit cards for the next four years? Collect the phones and vote your choice of candidates. It's your money they are spending they are not really doing you any great favour."
Victoria Ayoku described it as a desperate measure and a stupid strategy, saying "they seem to be getting it wrong day by day. So annoying, what do they think Nigerians are? A remote control? I wish people would blank them and their stupid kobo kobo gifts. But its so unfortunate some people will still fight to get one of these."
Betty Magnus asked: "is that the type of phone Jonathan and Sambo shared at their daughter's wedding last year? Let me not say they are stupid."
Adedeji Karounwi said: "all these money used in buying the phones would be looted back in millions of ways, so why sell your future and right cheaply? If the phone can change our problems I will collect 10 but if it doesn't then to hell with them. Or is this part of their delay tactics? I don't really get it. We don't want you there is as simple as that. Did you share this last year or two years ago? Why now? Youths aint smiling neither are we gonna put ourselves down to be brainwashed."
According to Peters Inegbede, "I don't trust them. After elections, the phone network will disappear and next stop will be computer village."
Chukwuma Ibuso said: "Let them share iphones instead. Then we would know they mean business."

Load more