Okafor Ofiebor/Port Harcourt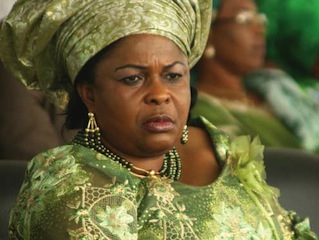 All Progressives Congress (APC) members from Okrika in Okrika local Government area, the home of Mrs Patience Jonathan, wife of President Goodluck Jonathan, have raised alarm that they they have been barred from holding any political campaign rally in the area.
They have therefore sent a Save Our Soul (SOS) to President Jonathan to call his wife to order and to tell her to allow them exercise their right to freedom of association and allow APC hold its rallies in Okrika and Ogu/Bolo local Government areas.
Mr Tamuno Williams, former Chairman of Okrika local Government and the Director of Greater Together campaign organization of Dakuku Peterside, the APC governorship candidate revealed the frustrations, victimization and intimidation faced by APC members in Okrika and Ogu/Bolo due to the inability of the police and other security agencies to provide protection for them to hold campaign rallies in the area.
Williams, who is also a lawyer recalled in the early hours of Saturday 11 January 2015, PDP thugs attacked members of APC at the party secretariat and also at the campaign office of Dakuku Peterside. The secretariat is located in Abam Ama, a community that shares boundary with Oba Ama, hometown of Patience Jonathan.
According to the Okrika APC leader, on Saturday January 24, some PDP members attacked the venue of the proposed APC governorship rally. Properties were destroyed cars were burnt and attempts were made to prevent the rally from holding but APC refused to be cowed by their violent actions.
"It is pertinent to note at this point that the security personnel who were sent to secure the venue were unceremoniously pulled out and asked us to stand down with the ubiquitous orders from above. Minutes after the security operatives left, another set of PDP boys swarmed on the venue attacking persons and their homes and burning cars".
APC said it called off its campaign but on 4 February 2015, the APC Okrika again wrote to the Commissioner of Police, Rivers state requesting security protection for the rally.
According to APC in Okrika, on 9 February after all arrangements have been made the Commissioner of Police, Mr. Dan Bature informed the APC that it needs to change the date to Thursday February 12 to enable the police put in place adequate security measures to enable the party holds its rally in Okrika.
APC alleged that rumours were rife in Okrika that "The wife of the President, Mrs Jonathan had decreed that the APC must not be allowed to hold its rallies in the two Okrika speaking local government areas of Okrika and Ogu/Bolo".
Williams said to further guarantee that her orders were obeyed Mrs Jonathan arrived Port Harcourt on Wednesday February 12.
Afterwards, CP Bature invited the APC and PDP to the Police Command and while the APC honoured the invitation, PDP members from Okrika were absent as well as CP Bature who was represented by Deputy Commissioners of Police Shaba and Amadi.
According to Williams, the Police Command said it was unable to guarantee security for them to hold rallies at the same time PDP was holding its rally in Obio/Akpor local government area.
Members of APC in Okrika therefore appealed to "President Jonathan to call his wife to order and to direct the security agencies to protect the constitutional rights of every citizen of the Federal Republic of Nigeria."