Damilare Okunola
Students of the University of Ilorin, UNILORIN, Ilorin, Kwara state, north central Nigeria, have expressed their displeasure over the two-day break approved for them by the institution's management.
The students who expressed their displeasure over the unusual break, said they are not comfortable with the idea and have now called on the school management to resolve the issue as it seems to be in the best interest of the institution alone.
P.M.NEWS Campus Square findings revealed that the students will end their First Semester examinations this week, but have been asked to resume for the second semester on Monday.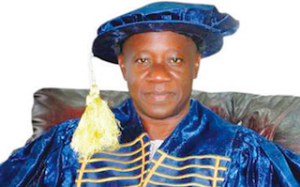 Some of the students told our correspondent from their Ilorin Campus that the school is just trying to rush them, as many of them had anticipated the routine two-week break they had been used to.
"I have really not experienced any such thing before since I gained admission into this school," said Funmilayo Grace, a 200-level student of the institution.
"What we have been used to is the two-week break which we get yearly, especially after the first semester. How can they expect us to observe a break for just two days when we had such a hectic time, studying for our exams?
"I do not know how, but I am pleading with the school management to look into this in the interest of the students," she added.
Speaking also in the same vein, Adeolu David decried it, stating that the examination was quite hectic, and to have asked them to rest for just two days before resuming for lecture was not okay.
"As far as I am concerned, this is a really ridiculous development because our preparations towards the examination were very hectic. If we have to relax after studying for the examination, staying for two days before we start receiving lectures again is very bad.
"Most of us finished our examinations on Wednesday, some will finish theirs on Thursday and they are telling us to resume on Monday. We are really unhappy with this development because it really hurts," the Guidance Counselling part two student fumed.
Alaga Sodiq, another student of the institution also said it is more painful that the students cannot protest since the school does not even have a students' union to plead their cause.
He said: "this is not something we are comfortable with. The election postponement necessitated the change but that should not directly affect us. The school's management has to really help us out subsequently."

Load more