Jethro Ibileke/Benin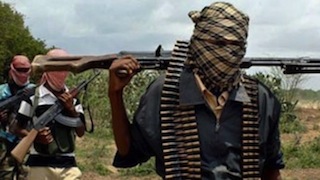 Unknown gunmen have reportedly killed two workers of Okomu Oil Palm Plc, located at Udo in Ovia South West Local area of Edo state.
The gunmen suspected to be Ijaw youths allegedly invaded the oil palm plantation of the company where about seven workers were working and shot at them, killing two of them, while the other five who escaped with bullet wounds. They are currently receiving treatment at an undisclosed hospital.
According to a source in the company who craved anonymity, a large portion of the plantation was also set ablaze by the unknown hoodlums over alleged refusal of the company management to 'settle' them.
The source alleged that several workers have been attacked in the past but the management usually kept mum about the incidences, adding that, the killing on Tuesday of the two workers occurred at a place not far from were security operatives are based.
"This matter does not concern us. We are just workers but the Ijaw boys always attack us and leave the management staff alone.
"The boys need something from the management but this Managing Director is too stubborn. The security men on ground have not exchanged gunshot with the attackers since trouble started last year.
"We decided to cry out so that the management can do something about this killings," he said.
When contacted, the Public Relation Officer of Okomu Oil Palm Plc, Ikponmwosa Osunbor, who confirmed the killing, said the hoodlums have been warning the oil firm to leave the land.
He added that the disgruntled hoodlums have not made any cash demand on the company but only threw leaflets into the firm asking them to leave.
Osunbor called on the state government to intervene in the situation to avoid tribal attacks because relatives of the slain workers were spoiling for war.
"They have burnt 300 hectares of matured rubber and oil palms. We have 120 army personnel in our plantation but the boys are still attacking our workers in the bush.
"Government should provide more security for us. Our fear is that it will not turn into a tribal war," he said.