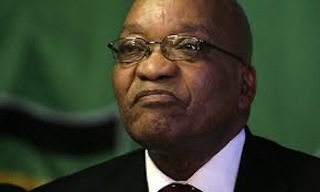 South African security forces were on Thursday called in to eject a group of radical lawmakers from parliament after they caused chaos during President Jacob Zuma's annual state of the nation address.
The members of the Economic Freedom Fighters (EFF), led by populist firebrand Julius Malema, had created an uproar as they demanded that Zuma repay millions of taxpayers money spent on his private residence.
The ejection of the EFF members led the official opposition Democratic Alliance party to walk out of the chamber.
Malema had warned in advance that he would not allow Zuma to speak until he had answered the question of when he would refund some of the money, as demanded by the national ombudsman.
When Malema made good on his threats the EFF members were evicted by a large force of security officials.
The official television feed from parliament focused only on Speaker Baleke Mbete as sounds of scuffles could be heard.
Shortly afterwards the opposition Democratic Alliance walked out after demanding to know whether it was police or parliamentary officers who had evicted the EFF.
"You can't send police into parliament," Democratic Alliance parliamentary leader Mmusi Maimane said as he led his party out after the eviction of the smaller Economic Freedom Fighters party.
Zuma then resumed his annual state of the nation address to a partly empty house and to a nation transfixed by the unprecedented scenes in parliament.
The EFF — formed by renegade members of the ruling African National Congress in 2013 — has shaken up the political landscape with its populist proposals to nationalise mines and banks and seize white-owned land without compensation.
The party's programme has found fertile ground among the country's poor, who feel that only government fat cats and their cronies have enjoyed the benefits of black majority rule.
Around 25 percent of South Africans are unemployed, according to official statistics, while unofficial estimates put the figure much higher.
At the heart of |Thursday's events is Zuma's refusal to accept an ombudsman's decision that he should repay some of the public money spent on "security items" such as a swimming pool, amphitheatre, cattle pen and chicken run at his rural home in Nkandla in the eastern Kwazulu-Natal province.
The money spent on what were billed as upgrades would buy several luxury homes in Johannesburg or Cape Town.
The DA had said it would not disrupt Zuma's address because it plans to hold him to account in court, but apparently reacted to the style of the EFF's eviction.
Party leader Helen Zille told several hundred supporters at a rally outside parliament earlier that they would pursue through the courts some 700 charges of "corruption, money-laundering, and racketeering" against Zuma, which were controversially dropped.

Load more