Funsho Arogundade   
Multiple award-winning filmmaker, Kunle Afolayan, has revealed that his latest thriller, October 1, has grossed over N100 million since its premiere.
In a chat with Nigerian Entertainment Today newspaper, Afolayan said in spite of the classification of the film as 18 and above which makes it unsuitable for viewing by minors and also reduces the potential of high box office returns, he has been able to gross such impressive amount.
"I make films for the international audience. What we have made from October 1 in Nigeria so far is more than N100m, but it is not just from cinema box office. We did private screenings and we've done screenings on other platforms," he revealed.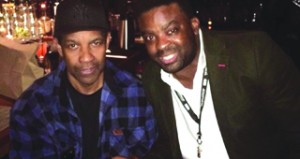 Figures from the cinemas revealed that Afolayan's film has been closely trailing Comedian AY's 30 Days In Atlanta, which grossed over N140m in Nigeria, smashing the long-standing highest earning record held by Ije.
Afolayan is at present in the United States, where he met the African-American Hollywood icon, Denzel Washington.
He is already tiding up work on his next movie project which he assured will also be a mind-blowing thriller.