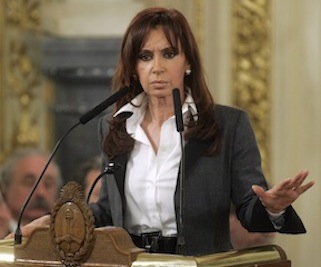 Argentine President Cristina Kirchner was formally accused Friday of shielding Iranian officials from prosecution over a 1994 bombing at a Buenos Aires Jewish center, prosecutors said.
The prosecution move advances the case against Kirchner that was being pursued by late prosecutor Alberto Nisman before he died mysteriously on the eve of congressional hearings on his accusations.
Meanwhile, Kirchner's cabinet chief accused the courts Friday of trying to stage a "judicial coup" by pursuing a dead prosecutor's case against the embattled leader.
Kirchner has been under fire since prosecutor Alberto Nisman turned up dead after accusing her of covering up the involvement of Iranian officials in the 1994 bombing of a Jewish center in exchange for oil.
Argentine media reported Friday that a new prosecutor, Gerardo Pollicita, would take over the case and continue investigating the allegations.
That, plus a prosecutors' march next Wednesday to mark one month since Nisman's death, amount to "a strategy to actively stage a judicial coup, seeking to cause social unrest," said cabinet chief Jorge Capitanich.
He compared Kirchner's recent political woes to those facing other world leaders.
"The struggle in this world is between democracy and obscure groups linked to powerful economic interests. Barack Obama is facing an onslaught by the recalcitrant Republican right. In Brazil, Dilma Rousseff is suffering an attack with calls for impeachment," he said.
The government presented its official rebuttal to Nisman's allegations Friday, saying that "no action on the part of government officials was designed to dis-incriminate Iranian citizens."
Nisman, 51, was found with a gunshot wound to the head on the eve of a congressional hearing at which he was to present his accusations that Kirchner shielded high-ranking Iranians, including former president Akbar Hashemi Rafsanjani, from prosecution over the bombing at the Argentine Jewish Mutual Association in Buenos Aires, which killed 85 people.
His death was initially labeled a suicide, but suspicion has fallen on Kirchner's government.
The president has suggested Nisman was manipulated by disgruntled former intelligence agents who then killed him to smear her.

Load more